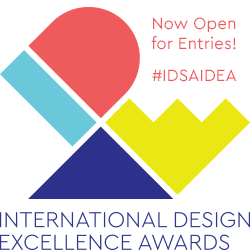 For anyone who is a maker, who is building something, it's the ultimate achievement to win an IDEA.
HERNDON, Va. (PRWEB) January 02, 2018
The International Design Excellence Awards (IDEA)®, presented by the Industrial Designers Society of America, is open for entries through March 19, 2018 with an expanded jury, a new look and some new categories. "One of the world's most prestigious and rigorous design competitions is moving into its 38th year—revitalized and energized," declares IDEA 2018 Jury Chair Michael Kahwaji, IDSA, of Whirlpool Corp.
The jury features nearly three dozen experts from some of the world's largest brands such as Google, Microsoft, Nike, Delta Faucet, REI, Targus, Stryker and Cartoon Network; major design studios including Whipsaw, fuseproject, Ammunition, HS Design and Metaphase; and leading universities. Bringing a global perspective, jurors originally hail from countries such as Canada, China, Germany, Guatemala, New Zealand, Nigeria, United Kingdom and the United States. Some are former IDEA winners who know just what it takes to get to the top.
"We have curated a design jury with a well-balanced demographic," says Kahwaji, who also serves on the MFA Advisory Council at the College for Creative Studies and as an adjunct design instructor at the University of Notre Dame. "I'm proud to announce this year's jury includes 12 women, as well as experts in branding, service design and graphic design. This will enable IDEA to truly reflect the multidisciplinary facet of the competition."
Recently, the program has undergone major changes including the redesign of its trophies with the help of fuseproject—the design studio founded by longtime IDSA member Yves Béhar. "For anyone who is a maker, who is building something, it's the ultimate achievement to win an IDEA," says Behar. "IDEA is the award by designers, for designers. Fuseproject worked with IDSA to rebrand IDEA and redesign the trophy to reflect the evolving industry it celebrates."
For 2018, the 20 IDEA categories include three new ones: Home, now including Kitchen; Furniture & Lightning, including Outdoor Furniture; and Lifestyle & Accessories. In 2017, two new categories were added: Branding and Consumer Technology.
IDEA earns worldwide recognition. Top winners are featured in INNOVATION magazine's Yearbook of Design Excellence, the IDEA Gallery and global media outreach. Follow the journey to #IDSAIDEA @IDSA on Twitter; Industrial Designers Society of America on LinkedIn and Facebook; and @IDSAdesign on Instagram. For information on sponsorship opportunities, contact sponsorship(at)idsa(dot)org.