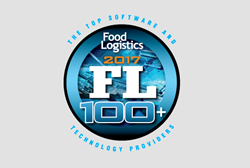 Since our beginnings in 2000, the grocery and food wholesale industry has been a core market for us and we will continue to provide innovative solutions for this industry.
(PRWEB) January 10, 2018
Food Logistics, the only publication exclusively dedicated to covering the movement of product through the global food supply chain, has named C3 Solutions Top 100 Software and Technology Provider.
C3 Reservations, C3's Online Dock Scheduling System, streamlines the scheduling process by improving dock productivity, expanding visibility on scheduled appointments and measuring vendor compliance.
C3 Yard, C3's Web-based Yard Management Solution empowers yard managers by providing visibility on yard assets, optimizing the flow of trailers from gate to gate and automating yard driver task assignment.
The annual FL100+ Top Software and Technology Providers list serves as a resource guide of software and technology providers whose products and services are critical for companies in the global food and beverage supply chain.
"New developments and innovations in the software and technology sector are making sizeable impacts on the global food supply chain," notes Lara L. Sowinski, editorial director for Food Logistics and its sister publication, Supply & Demand Chain Executive. "The result is a greater visibility, improved regulatory compliance, enhanced shelf life for perishables, and the emergence of a more proactive and nimble food supply chain that benefits both the food industry and its logistics partners, as well as the end consumer."
"We are pleased to be recognized by Food Logistics as part of the Top 100 Software Providers,'' says Greg Braun, Senior Vice-President at C3 Solutions. "Since our beginnings in 2000, the grocery and food wholesale industry has been a core market for us and we will continue to provide innovative solutions for this industry.''
About C3 Solutions
C3 Solutions is an information technology company specialized in yard management (YMS) and dock scheduling systems. Since its founding in 2000, C3 has gained the confidence of clients around the world and across many industries including retail, grocery, distribution, manufacturing and parcel post.
Headquartered in Montreal (QC), Canada and privately owned, C3 is dedicated to developing, implementing and supporting the most complete yard management and dock scheduling products on the market today. For more information on C3's products, schedule a free on-line demonstration. http://www.c3solutions.com
About Food Logistics
Food Logistics is published by AC Business Media, a business-to-business media company that provides targeted content and comprehensive, integrated advertising and promotion opportunities for some of the world's most recognized B2B brands. Its diverse portfolio serves the construction, logistics, supply chain and other industries with print, digital and custom products, events and social media. http://www.foodlogistics.com