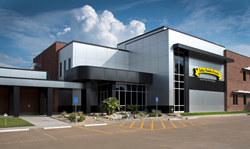 TYLER, Texas and VALLEY, Ala. (PRWEB) December 26, 2017
John Soules Foods announced today that it has completed the purchase of a 266,000 square foot facility in Valley, AL. During Phase 1 of the expansion, the Company will add 210 employees and invest $70 million into the facility. Phases 2 & 3 will add an additional 300 employees and invest another $40 million total investment of approximately 110 million. When all Phases are complete, this purchase will increase fully cooked capabilities by over 100 million pounds annually.
"This is an important and exciting expansion for John Soules Foods. With the additional manufacturing capabilities, we are creating a position to handle the growing needs of our customers that allow us to be more responsive across the Grocery and Foodservice markets," said Mark Soules, Co-Chief Executive Officer of John Soules Foods.
"Our addition of the Alabama plant will expand our growth capabilities as well as add cross functionality between all of our facilities. We have one of the most sophisticated and efficient workforces in the industry. We at John Soules Foods pride ourselves in providing exceptional customer service and innovative product development with the highest levels of quality and food safety," said John Soules, Jr., Co-Chief Executive Officer of John Soules Foods.
About John Soules Foods
John Soules Foods was established in 1975 and is the nation's leading formulator, manufacturer and marketer of ready-to-cook and fully-cooked beef and chicken products as well as fully cooked breaded chicken. John Soules Foods' operations are based in Tyler, TX, with production facilities in Tyler, Gainesville, GA and now Valley, AL. The company's products are sold under the John Soules Foods and ProView brands as well as a select number of private label brands for the country's premier retailers. For more information about John Soules Foods and its products, visit http://www.johnsoulesfoods.com.