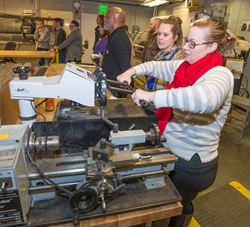 There are opportunities to enhance traditional lessons through integrating digital fabrication that unlock doors for cohesion among disciplines and skill sets students weren't previously able to access,
BOSTON (PRWEB) December 24, 2017
A coalition led by The Fab Foundation unveiled details about efforts to catalyze STEM learning in formal educational environments through digital fabrication resources, including the schools that will become laboratories for teaching, learning, and experimentation to improve teacher instruction and practices in Fab Labs and makerspaces.
STEM School Chattanooga and MC² STEM in Cleveland were selected to lead a year-long leadership pilot. The experiential work will occur at these two schools. Teachers there will work with national and international experts in developing rigorous and engaging digital-fabrication curriculum, participate in interactive professional development and shepherd the growth of a community of practice of educators in the fields of Science, Technology, Engineering and Math using digital fabrication.
The Fab Foundation's project is called Scaling a Community of Practice for Education in STEM through Digital Fabrication, or SCOPES-DF.
"We are excited to bring new resources to the field that have the potential to help all students succeed in Science, Technology, Engineering and Math while providing them with the tools for personalized learning and freedom in the 22nd Century," said Sonya Pryor-Jones, Chief Implementation Officer of The Fab Foundation.
Insights from the intensive work undertaken with these teacher leaders, referred to as the Leadership Cohort, would spread initially within the United States to K-12 school districts that have a school, or set of schools, interested in new techniques and models for deep learning, while tapping the Fab Lab Network of international fabricators, makers and technologists.
The SCOPES-DF Experiential Leadership Cohort launch occurred in Boston on December 18th and 19th at Dassault Systemes/Solidworks new Fab Lab and at MIT's Center for Bits and Atoms.
As work progresses, educators in the Leadership Cohort will work with the international network of Fab Labs and other growing innovation spaces on the resources developed, and iterate with them for local use.
"While the linear model of education works in some instances, there are opportunities to enhance traditional lessons through integrating digital fabrication in ways that unlock doors for cohesion among disciplines and skill sets students weren't previously able to access," said Feowyn MacKinnon, Head of School at MC² STEM, in Cleveland.
"We are excited about the possibilities this brings to students and schools," said Tony Donen, Principal of STEM School Chattanooga. "Our goal is not only to impact the students in our school, but also to lead the way in developing opportunities for students throughout Hamilton County, the state of Tennessee, and across the nation."
The Fab Foundation envisions a reality where school districts, embracing SCOPES-DF:
1.) Partner with their schools in the distribution and scaling of practices and resources developed to increase opportunities for students and teachers in digital fabrication.
2.) Participate with a national network of colleagues in the development of practices for emerging digital fabrication literacy.
3.) Serve as a model for other districts in the international network for 22nd Century teaching and learning.
"Since the first Fab Lab was placed in a high school 10 years ago, educators have been working to integrate digital fabrication in K-12," said Sherry Lassiter, President and CEO of The Fab Foundation. "Through our generous sponsors, SCOPES-DF provides us with an opportunity to dedicate time and resources to create tools and practices for transforming K-12 STEM with teacher leaders as our partners and co-designers."
SCOPES-DF is made possible through generous support of Chevron and The GE Foundation.
Chevron champions science, technology, engineering and math education in the United States, in K-12 classrooms and beyond. Through programs and strategic partnerships, Chevron helps students and teachers get the tools and access the resources they need to take advantage of every opportunity STEM offers.
GE Foundation, the philanthropic organization of GE, is committed to transforming communities and shaping the diverse workforce of tomorrow. It supports efforts to create a high-quality education pipeline for all students, bringing innovative learning in STEM education, scaling what works and building sustainable solutions.
STEM School Chattanooga's mission is to develop and share a new paradigm for world-class education using technology as a gateway to cultivate students' inquisitive nature, exercise innovation, think critically and collaborate to become leaders who are self-sufficient learners with the same passion as Chattanooga's Renaissance.
MC² STEM High School's mission is to model a rigorous STEM education in a non-traditional environment through transdisciplinary curricula, hands-on projects and community partnerships. The school aims to engage and enrich students by fostering critical thinking and problem-solving skills, and empowering them to achieve their personal, academic and community goals.
A Fab Lab is a carefully curated digital fabrication laboratory comprised of off-the-shelf, industrial-grade design, fabrication and electronics tools, wrapped in open source software and supported by programs written by researchers at MIT's Center for Bits & Atoms. This platform for learning and innovation is a place to play, create, learn, mentor and invent—while joining and engaging with a global community of learners, educators, technologists, researchers, makers and innovators. There are over 1100 labs in more than 100 countries.
The Fab Foundation was formed in 2009 to facilitate and support the growth of the international fab lab network as well as the development of regional capacity-building organizations. It is a U.S. nonprofit 501(c) 3 organization that emerged from MIT's Center for Bits & Atoms Fab Lab Program. The Foundation's mission is to provide access to the tools, knowledge and financial means to educate, innovate and invent using technology and digital fabrication to allow anyone to make (almost) anything, and thereby creating opportunities to improve lives and livelihoods around the world.
Contact: Sonya Pryor Jones
The Fab Foundation
email: scopesdf(at)fabfoundation(dot)org