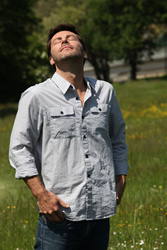 "When smokers realize their negative beliefs about quitting are false," says hypnotist Mahesh Grossman, "they discover how easy it is to become a permanent ex-smoker, especially if they use hypnosis."
BERKELEY, Calif. (PRWEB) December 24, 2017
According to the Center for Disease Control, 69 percent of smokers want to quit smoking. Yet only about half of those who want to stop actually try. The reason, according to Mahesh Grossman, a stop smoking hypnosis specialist and owner of Berkeley Hypnosis & Pain Management, is that smokers need to get over several myths about what smoking does for them. "When smokers realize their negative beliefs about quitting are false," he says, "they discover how easy it is to become a permanent ex-smoker, especially if they use hypnosis."
Here are the five myths Grossman says many smokers believed and the facts that helped them quit.
MYTH #1: Smoking calms me down and I can't handle stress without it.
It may seem like smoking calms you down, but the nicotine in a cigarette actually speeds up the heart rate and creates a rush of adrenaline. What smokers find relaxing, says Grossman, is the slow exhale they use when they let the smoke out of their lungs. "Cigarettes steal the credit from the true relaxation superhero—deep breathing," he says. "Long exhales are a yoga and meditation technique that calm you down and help you focus."
MYTH #2: Smoking is too physically addictive for me to quit.
Unlike heroin, pills or alcohol, no medical observation is needed to break the smoking habit. There are no tremors, seizures or vomiting. Nicotine completely leaves your blood in 1-3 days. Physical symptoms are minor if you smoke a pack or less per day. (If you smoke more than that, gradually cut back to a pack a day during a two-week period. When you reach your goal of one pack, it's time to quit for good. This will make any nicotine withdrawal symptoms easier to handle.)
Grossman says that the withdrawal symptoms most people experience are primarily psychological. "When you create a strong association between smoking and activities like drinking coffee or taking a break at work, it's natural to feel a twinge of desire for cigarettes at those times." He compares it to Pavlov's dogs, whose mouths watered when a dinner bell was rung regardless of whether there was food or not. "The secret to success," he adds, "is to plan ways to enjoy those activities without smoking."
MYTH #3: I have no willpower and I won't be able to quit. In actuality, being a smoker takes a lot of willpower. It requires planning and effort to have enough cigarettes and time for a smoking break. When someone first starts smoking, it takes willpower to overcome the coughing, nausea and jitters that appear as the body adjusts to the effects of nicotine. Grossman says it's important for smokers to reflect on the willpower they've used in other areas in their life as well. "Once smokers take stock of the willpower they've succeeded with in the past, it's easier to believe they can stop smoking. Associating that willpower with quitting cigarettes creates the expectation of success, which affects pathways in the brain and makes success more likely."
MYTH #4: I quit before and I couldn't stop so I won't be able to stop now. The American Cancer Society says it takes 8-10 tries for most people to quit. And MarketWatch reports that since 1965, 47 million people have quit smoking—a million more than the 46 million people who currently smoke. Therefore most people who successfully quit smoking have failed multiple times beforehand.
MYTH #5: I won't be able to be around a smoker and I will miss my friends who smoke. Most permanent ex-smokers don't stop being friends with people who smoke. Many have quit even though they have a spouse or romantic partner who still smokes. Grossman says that being around other smokers is easier when you recognize that you have outgrown cigarettes. "What you wanted from smoking when you started as a teenager is different from what you want now," he says. "When you recognize that the old reasons for smoking no longer apply, smoking becomes like a pair of shoes that hurts too much to wear any more and thus easy to give up." He also suggests that you tell people you used to smoke with that you are quitting. "They will support you, because if you are successful, it will give them the hope that they can quit, too."
Mahesh Grossman is a clinically certified hypnotherapist and owner of Berkeley Hypnosis & Pain Management. Mahesh specializes in stop smoking hypnosis, as well as hypnosis for weight loss, pain management, medical issues, anxiety and depression. His personal mission is to help people make the changes they want to experience by breaking through the unconscious material that causes inner difficulties to the unconditional love and joy that lies hidden just below the surface of everyday life.
For more information about Berkeley Hypnosis & Pain Management or this and other story angles, please call or text Mahesh Grossman at (510) 813-8004 or email info(at)BerkeleyHypnosis.com