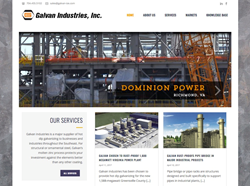 Our company is growing and our story is still evolving.
(PRWEB) January 03, 2018
Galvan Industries, Inc. of Harrisburg, NC, today announced the recent launch of its newly revamped hot-dip galvanizing services website. Hot-dip galvanizing prevents rust on steel used in construction and in manufactured parts by dipping it in molten zinc, creating a barrier against corrosion that can last for decades before any maintenance is needed. The redesigned site offers quick and easy access to enhanced company and industry information along with responsive mobile-friendly design.
Created with the user experience in mind, the site includes many new features, such as updated information on recent projects, new project portfolios, key employee profiles and career opportunities. The popular Professor Zinc question and answer column is a feature of the new "Knowledge Base" navigation section, which also includes advice on designing for galvanizing, information on important ASTM specs and links to the technical library of the American Galvanizing Association.
The new website has a clean uncluttered look, simple navigation and improved functionality in mobile platforms. The URL is unchanged: http://www.galvan-ize.com.
"We are excited about our new website and the information it provides for our customers, our partners and our community," said Laurens Willard, president of Galvan. "As we enter our 60th year in business, our company is growing and our story is still evolving. We want our web presence to evolve with it."
Galvan's new hot dip galvanizing website will be updated on a regular basis with project news, business activity, events and more advice from Professor Zinc. Visitors are encouraged to explore the website and sign up to receive the company's email newsletter.
About Galvan Industries, Inc.
Since 1958, Galvan Industries has provided the ultimate in corrosion control to steel fabricators and manufacturers. The first hot-dip galvanizing operation in the Carolinas, the company has grown to become the largest capacity contract galvanizer in the Southeast.
For details, or to place an order, call Galvan Industries at 1-800-277-5678, Fax (704) 455-5215; e-mail: sales(at)galvan-ize(dot)com.