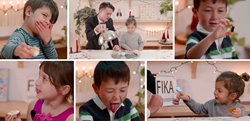 "Here at Sköna, we are a mixed team of Swedes and Americans and have since 2003 held on to our Swedish heritage both in terms of our design aesthetics and culture. This year's Christmas campaign is a fun example of that. "- Says Jenny Sagström, CEO Sköna Advertising.
(PRWEB) December 23, 2017
In this year's Christmas video to their customers, friends and family, the Swedish-American Agency Sköna Advertising share some of their Swedish Christmas favorites with American children. A valiant attempt to introduce some Swedish Christmas spirit in American homes led to some of the toughest food critics in the world (kids) to speak out. The result? Well, Mikey no likey herring.
Swedes in general are the first group to sincerely embrace the latest trends from the US. But they are just as staunch in protecting their Swedish traditions. Especially around the Holidays. Swedes like hamburgers and drink kale smoothies all other days of the year, but on Christmas, they would never dream of replacing pickled herring with turkey or glögg with eggnog.
At Sköna, where at least a significant portion of the agency is Swedish, the team decided in true Swedish Christmas spirit to do a tribute to our Swedish heritage and Christmas favorites - with an American twist, of course.
The food critics panel consisted of six willing children ages 4-8 who were invited to Sköna's fika bar (coffee-bar) in their San Francisco office, where they were served a smorgasbord of Swedish delicacies.