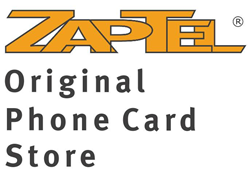 "Callers having a question about how to make a domestic or international long distance call have US-based customer service an 800 number away with ZapTel.com - Ron Reimann, Founder
CHICAGO (PRWEB) December 26, 2017
ZapTel made its first virtual phone card delivery at the end of 1999. Now, 18 years later, the company is proud to celebrate 18 years in business and the delivery of over two million virtual phone cards.
Since the beginning, ZapTel pioneered the convenience of desktop delivery and 24-hour a day online self-service account management for phone card buyers. Phone cards were traditionally a printed, physical card containing a scratch off with a PIN hidden underneath. Buying a phone card required a trip to a store to pick one up.
In the early days ZapTel had to buy physical cards from the carriers and transfer the PINS to a computer file for uploading in to the phone card store at ZapTel.com. Then ZapTel's customers could order online and the PIN was automatically sent by email, instantly in most cases.
The "instant telephone calls" inspired the name "Zap-Tel" and the rest is history. Today customers can use ZapTel's self service portal from the website or mobile to choose a phone card, recharge, set speed dials, register the mobile phone for PIN-less one touch dialing of international numbers, or even print out their card to keep in a wallet or purse.
Although the Internet has provided an alternate way of making low cost or free calls today, phone cards are still popular because they work with any phone here or in the calling country, without requiring any computer or special accounts. Customer uses range from those traveling to the United States or abroad to study, to business men and women looking to stay connected with home and work, to service men and women looking to call home from their military posts to even those looking to just save a little more on their domestic long distance calling. Even in this age of mobile phones, customers are still using their ZapTel phone cards to call any place, any time, from any phone.
About ZapTel Corporation
ZapTel.com is a leading online international phone card company, with US-based live customer service for ordering, and self-provisioning services on each customer's dashboard. The company is recommended by a leading consumer magazine as a good place to buy prepaid phone cards online, and is an INC 500 company.
ZapTel is a reseller that offers phone card plans from several top quality carriers so customers can choose the best plan for them.
###
ZapTel is a registered trademark of ZapTel Corporation.