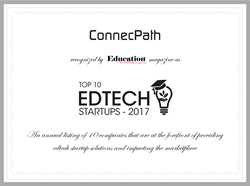 Our vision is to increase the college and career readiness of young students on a massive scale to steer them towards a better career path.
MILPITAS, Calif. (PRWEB) December 27, 2017
ConnecPath has been recognized as one of the top 10 Edtech Startups of 2017 by Education Technology Insights magazine. The acknowledgment was given in the December edition of the publication where ConnecPath founder, Leo Sanada, described how the app has been revolutionizing the college application process.
"Our vision is to increase the college and career readiness of young students on a massive scale to steer them towards a better career path," Sanada said.
The founding team of ConnecPath includes Sanada. a tech-savvy CEO with an education background, and Pradeep Reddy, a CTO with a strong tech background.
Sanada met with Reddy in Silicon Valley in July 2017 and quickly assimilated the tech genius/expert into ConnecPath.
"We saw a great fit as a founding team," Sanada said.
The origins of ConnecPath go back to where Sanada was doing an internship at Skyline High School in Ann Arbor while he was completing his MBA at the University of Michigan. During his time at the high school Sanada recognized a need in the college counseling process and set out to solve it with a AI-power chat-bot app that acts as a virtual career counselor.
Reddy has been working in the software development industry for over 10 years. He has a passion for AI and a background as a VR researcher and data scientist and his skills and talent fit into the ConnecPath vision.
Thanks to the help of StartupHouse Foundry Program, an incubator program based in San Francisco, the company incorporated and fast-tracked their growth.
"The biggest lesson I learned was that without proving the concept of business by gaining traction, hardly any investors get interested in a startup business," Sanada said of the program.
"The experience made me more prepared to talk with stakeholders such as target users and investors."
By September, ConnecPath launched its mobile app in both the Apple App Store and Google PlayStore, making it accessible to a large group of students on both OS. They released a web version early in December.
The company has been rapidly growing since their inception and earning recognition and respect across the industry.
In November, ConnecPath won the Edvation Summit 2017 competition, which was held in Tokyo. The award is a feature booth at the SXSWedu conference to be held in Austin, Texas March 5-8.
The startup was pitted against five other finalists but was able to win over the judges with its AI-focused app.
"The fact that high school seniors receive around 10 minutes of time to make one of the biggest decisions of their lives in what college to apply for – and even if that is the right choice for them – formed the backbone of our winning pitch at Edvation Summit," Sanada said at the time.
"It's our objective to provide more support and faster access to information, unleashing the power of AI to save time, orchestrate teamwork and enrich subsequent student and guidance counselor conversations."
Over the past few months, ConnecPath has developed a fabulous user experience for students on a massive scale. The founders are dedicated to delivering personalized support to each teen using the power of technology and scalability. They have also heavily invested time and effort to polish the AI-driven solution.
The app continuously adds new features for counselors to help make their job easier with a more positive impact for high school students.
Users can anticipate big updates to the mobile interface in the Spring 2018, which will increase student engagement even more.
About ConnecPath
ConnecPath Inc. is an education technology company that increases college and career readiness of young people in massive scale to maximize their future potentials.
Students have historically had to make important decisions about college and careers independently and with limited information. Not any more.
ConnecPath's collaboration platform brings the power of artificial intelligence to students and educators, putting an end to that uncomfortable journey. With ConnecPath, students find pathways that fit their individual passions and competencies with amazing speed. ConnecPath was founded in September 2017 and is headquartered in Silicon Valley.