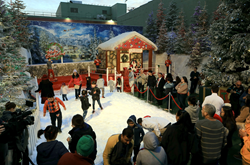 This wintry setting is a much-anticipated venue in Hollywood for all to enjoy over the holidays
HOLLYWOOD, Calif. (PRWEB) December 24, 2017
It snowed in Hollywood at L. Ron Hubbard's Winter Wonderland where hundreds of kids and their families enjoyed 6 tons of real snow that made the dream of a white Christmas come true.
Amidst a classic wintry setting of 57 real evergreen trees and a giant 60ft White Fir decorated with over 20,000 lights in the heart of Hollywood, L. Ron Hubbard's Winter Wonderland provided festive and magical fun for the Holiday weekend with real snow, a toy give-away, face painting, live entertainment, all while families enjoyed photos and selfies with Santa – all provided free of charge to the community.
Mitch O'Farrell, Los Angeles Councilmember for the 13th District commended the holiday set, "I would like to extend my sincere commendation to the L. Ron Hubbard Winter Wonderland for your commitment of 35 years of providing holiday joy and happiness to Angelenos and visitors to Hollywood from around the world."
Celebrating its 35th year, L. Ron Hubbard's Winter Wonderland has an established reputation of bringing joy and happiness to an estimated 40,000 Angelenos and tourists from around the world each year. The Holiday setting was first donated in 1983 by author and humanitarian L. Ron Hubbard as a gift to the children of Hollywood.
"This wintry setting is a much-anticipated venue in Hollywood for all to enjoy over the holidays," stated Louis Ricketts of the Friends of L. Ron Hubbard, "ever since 1983, the tradition of Mr. Hubbard's gift to the community has continued."
Admission is free and open through December 25th from 2pm to 10pm. Santa is on hand daily for photographs and to hear the holiday wishes from all.