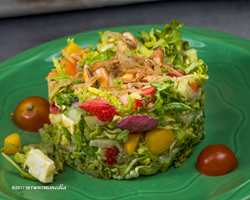 NEW YORK (PRWEB) December 26, 2017
Looking for the perfect neighborhood restaurant to take those out-of-town guests? A place that provides the exotic international flavor of New York City, yet has delicious, mouth-watering steaks and seafood, in generously sized portions?
Look no further than K Rico South American Steakhouse, consistently ranked in the highest echelon of New York City restaurants by Trip Advisor, and a recipient of the Diner's Choice Award. This Hell's Kitchen steakhouse with a Latin American flavor features the best cuts of prime beef found anywhere, cooked to perfection. Forget the traditional, boring steakhouse menu items like crab cakes and baked potatoes. Instead, choose from a wide variety of authentic South American cuisine like arepas, which are Colombian sweet corn-cakes, and chile relleno, a roasted poblano pepper stuffed with ground beef, Serrano ham, and Oaxaca cheese.
But what keeps customers coming back for more are the steaks, all prime aged meat cooked to perfection on an authentic plancha, a cast iron griddle like plate that provides a smooth, solid cooking surface that preserves the nutrients, flavor, and natural moisture of meats and seafood, while preventing the charring and overcooking common when using a traditional grill over an open flame. K Rico features all different cuts of steak, from a porterhouse sized for 2, to a 22-ounce ribeye, all the way to an 8 ounce "filletito." The well-rounded menu also includes tantalizing seafood dishes, traditional Peruvian-style roasted chicken, pork chops, salads, soups, and an array of appetizers and sides (including Mashed Sweet Potato, a crowd-pleaser and perennial favorite) sure to please the most discerning palate.
The all-inclusive weekend brunch menu for $26.95 per person includes your choice of continually-served Mimosas, Bloody Marys, or Margaritas with such specialties of the house as "Chilaquiles" (3 eggs sunny-side up, crispy corn tortilla chips, and roasted green tomatillo salsa), Crispy Pork Belly and Eggs, the signature K Rico Omelet, and the Prime Steak 10-oz Burger. Stop by on "Sangria Sundays" for a $32 pitcher of sangria, a special blend that gets its own rave reviews.
Make those holiday reservations now, and give your out-of-town guests a night to remember at K Rico. You can also stop by on your way to the theater and choose from the pre-theatre menu, or grab a light meal at the bar and enjoy the festive ambience and neighborhood feel.
K Rico is open for lunch, dinner and weekend brunch Tuesdays through Sundays at 772 Ninth Avenue between 51st and 52nd Streets. Lunch is served Tuesday through Friday from 11AM - 4PM and weekend brunch starts from 10AM - 4PM. Dinner is available nightly (except Mondays) from 5PM - 1AM.
Reservations are strongly recommended and can be made by calling the restaurant at 212-757-9393 or via http://www.kriconyc.com