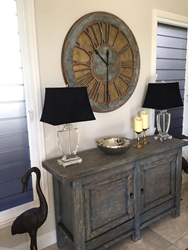 Beautiful clocks and 5 star customer service from Anna who goes way beyond the extra mile to ensure her customers are happy with the end result
Sheffield, South Yorkshire (PRWEB) December 28, 2017
Shabby Chic look has been very popular for the past 20 years in interior design. This beautiful eclectic style is mixing soft pastel colours with romantic feminine touch. Most people when asked about the shabby chic immediately think about the furniture, paint and distinct wall decor. Nobody really thinks about large handmade wall clocks as something that could complement shabby chic home decor.
The Internet is changing the landscape for Interior Design trends every day. Small businesses around the world in a matter of seconds can show their products to a Global Audience. Websites like Facebook, Twitter and Google Plus allow social media sharing without boundaries. People on all continents can search for products that they wouldn't find in the shop window.
Anna has founded Peak Art Clocks in the late 2014 with the goal to influence interior design trends across the globe. She wanted to change the old habits and challenge accepted thinking. Together with her husband she designed and handmade multiple remarkable shabby chic clocks that make a very strong statement to everyone coming across them. She wanted to show that filling this large empty wall space doesn't have to be done with large painting or mirror. Her work also proves that Shabby Chic look isn't only about the furniture.
In the end of the day, Shabby Chic or Vintage style embraces any imperfection, scratches and dents. The large wall clocks offered by the traditional manufacturers can't offer this mysterious uniqueness because they are all made to be identical. The shabby chic wall clocks from Peak Art on the other hand, are often tailored to match individual needs.
It is really important for Anna to ensure that each back-order meets the unique requirements of her customers. She often designs a new timepiece based on the photographs received from them. According to Anna, the most fascinating part of her job is the process of creation and unique bond with clients around the World. It is the community of people that are looking something different that made her business so successful in 2017.
Today Peak Art offers wide range of extra large wall clocks including not only Roman Numeral but also more eccentric and contemporary designs. Each timepiece can be made in three different sizes measuring 30", 40" or even 48" in diameter. Any of those stunning timepieces can be shipped to over 30 different countries including United Kingdom, Europe, Canada, Australia and United States.
Peak Art don't usually take part in any seasonal sales because almost all their products are made to order. They do however often reward people that help promote their business by social media sharing or linking to their website. This unique approach to marketing helped them build strong relationship with individual clients, bloggers and interior designers from Sydney to New York.