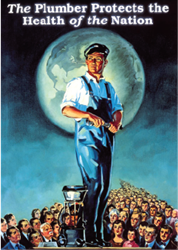 we can't ignore that access to safe water and safe sanitation practices is something that everyone has.
SAN DIEGO (PRWEB) December 27, 2017
Bill Howe Plumbing has been an established company serving San Diego for 38 years. Operating from the mission to provide the highest quality work, the highest trained plumbers, and fair and honest prices, it is no wonder that they have been chosen by their local communities as the best San Diego plumber on multiple occasions and can be seen in the Bill Howe Difference. The company also has a giving spirit and routinely donates their time, resources, expertise, and financial contributions to many local organizations and charities.
Their mission does not stop at home in their own backyard, however. Coming across a recent article in PMMag.com by Julius Ballanco, Jaime Howe had the idea to take their giving spirit global. "The article resonates with everything that we stand for," said Jaime Howe-Stolis, Bill Howe Office Operations Manager. "I through it was a great opportunity to do what we do for our own team; provide tools and resources to help them succeed; give them resources that we take for granted."
The ultimate project, Tools for Plumbers in Ghana, mission is to collect power tools nad plumbing resources to send to the 4-year plumbing school in Ghana. Reading about the students installing entire plumbing applications by hand is sobering. That is why Bill Howe is rallying the community to donate power tools and plumbing resources in time for the Anidaso Health Mission's next trip in February 2018. Mission Valley Pipe & Supply House is joining the cause and using their influence with suppliers to collect power tools, and Bill Howe Plumbing is starting off with a $1,000 tool donation for the 4-year program.
Bill Howe knows that plumbing protects the health of the nation. This is why they pay for 100 percent of the tuition and training for their plumbers to attend the 4-year federally accredited academy through the San Diego Plumbing-Heating-Cooling-Contractor's Association. "I would like to see every San Diego plumbing contractor licensed and employing trained field employees," said Bill Howe, President Bill Howe Plumbing, Inc. "We have a responsibility to protect our own community, but we can't ignore that access to safe water and safe sanitation practices is something that everyone has."
The original article, Training to be a Plumber in Ghana by Julius Ballanco, P.E. can be read online at PMMag.com. Clicking the link will take you to PMMag.com. You can also see Human Resource Manager, Amber Rush, discuss the project on CW San Diego Morning Extra Wednesday,December 27.
For more information about Tools for Plumbers or how you can help, visit http://www.billhowe.com, or to speak with Bill or Tina Howe regarding this announcement, contact Bill Howe Marketing Director, Julie Riddle at Julie(at)billhowe(dot)com.
About Bill Howe Family of Companies
Bill Howe Family of Companies is comprised of Bill Howe Plumbing, Inc.; Bill Howe Heating & Air Conditioning, Inc.; Bill Howe Restoration & Flood Services, Inc. The family-owned and operated company began in 1980 with the plumbing division and has grown into San Diego County's largest low-cost one-stop-shop for service, repairs and installation, offering both residential and commercial services. 9085 Aero Drive, Suite B, San Diego CA 92123. Call 1-800-BILL-HOWE because We Know Howe!