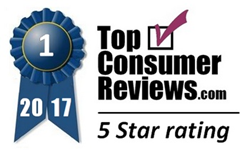 Net Nanny is our top choice for Internet Filters, and we're happy to name them our highest-ranked provider in 2017.
OVERLAND PARK, Kan. (PRWEB) December 27, 2017
TopConsumerReviews.com recently gave a best-in-class 5 star rating to Net Nanny, a leader among Internet Filter services.
With violent, offensive, and pornographic websites so prevalent online, the need to control the content that enters one's home or business is even greater than ever. Internet Filters represent the frontline of protecting small eyes from seeing disturbing material, though many adults also prefer to have a choice over what pops up on their laptop, tablet, or cell phone. With such a wide range of services available, savvy customers should be sure to evaluate what each provider has to offer based on the typical usage of those in their home or workplace.
"Net Nanny once again finishes first among services offering Internet Filters," explained Brian Dolezal of TopConsumerReviews.com, LLC. "Having won the PC Magazine Editor's Choice Award for multiple years, Net Nanny continues to be effective and affordable. If you're looking to control access to gaming and gambling sites, chat rooms, hate sites and much more, Net Nanny makes it possible - from any Internet-connected computer on the planet. Furthermore, all updates are automated, keeping the service fully up-to-date without any extra effort. Net Nanny is our top choice for Internet Filters, and we're happy to name them our highest-ranked provider in 2017."
To find out more about Net Nanny and other providers of Internet Filters, including reviews and comparison rankings, please visit the Internet Filters category of TopConsumerReviews.com at http://www.topconsumerreviews.com/internetfilters/.
About Net Nanny
ContentWatch, makers of the Net Nanny product line of internet security solutions for computers, tablets and mobile devices, is committed to providing web filtering and parental control solutions for families across the globe. Today, Net Nanny is used in over 135 countries and is available in English, Spanish, Italian, French German, Turkish and Japanese. Net Nanny has been designed to meet the unique needs of families and is the leading Internet filter in the marketplace, always evolving with the latest technologies and constant dangers that plague anyone who uses the web.
About TopConsumerReviews.com
TopConsumerReviews.com, LLC is a leading provider of independent reviews and rankings of hundreds of consumer products and services. From Internet Filters to Bunk Beds and Identity Theft, TopConsumerReviews.com delivers in-depth product evaluations in order to make purchasing decisions easier.