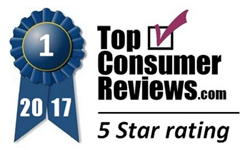 We're pleased to once again name Drumeo as our top choice for Drum Lessons, as our highest-ranked provider in 2017.
OVERLAND PARK, Kan. (PRWEB) December 27, 2017
TopConsumerReviews.com recently gave their best-in-class 5-star rating to Drumeo, a leader among online services offering Drum Lessons.
Who wouldn't love to be able to play the drums like a pro? Imagining oneself rocking out on a solo with a favorite band or wowing attendees at a talent show is fun, but it doesn't have to be only for pretend. Getting top-notch Drum Lessons is as close as a computer or DVD player, with a number of services available for in-home instruction for all skill levels. Best of all, these lessons are available at will: students can practice whenever it fits their schedule - and hopefully at a time that won't disturb the neighbors.
"For several years, DRUM! Magazine readers have named Drumeo as the best educational website for Drum Lessons on the planet, and with good reason," described Brian Dolezal of TopConsumerReviews.com, LLC. "The lessons include instruction of a wide range of styles from a jaw-dropping roster of instructors, including experts who've played with famous artists like Prince and Rascal Flatts. When you purchase the Drumeo service, you'll get access to a daily broadcast of live lessons, sheet music and audio files for every lesson, and two new play-along songs every month. One of the top resources is the ability to get direct feedback from Drumeo's instructors in the Student Focus section of the website. What really puts Drumeo ahead of the pack is their 90-day risk-free guarantee, ensuring that their Drum Lessons are a good fit for every student. We're pleased to once again name Drumeo as our top choice for Drum Lessons, as our highest-ranked provider in 2017."
To find out more about Drumeo and other online providers of Drum Lessons, including reviews and comparison rankings, please visit the Drum Lessons category of TopConsumerReviews.com at http://www.topconsumerreviews.com/drum-lessons/.
About Drumeo
Drumeo offers unique training solutions for drummers, including DVD-based training packs and an online membership program with daily live lessons from over 20 different instructors. Drumeo is designed to provide inspiration, education, and community support for drummers who want to improve their skills, have more fun playing the drums, and achieve their musical goals.
About TopConsumerReviews.com
TopConsumerReviews.com, LLC is a leading provider of independent reviews and rankings of hundreds of consumer products and services. From Drum Lessons to Guitar Lessons and Singing Lessons, TopConsumerReviews.com delivers in-depth product evaluations in order to make purchasing decisions easier.