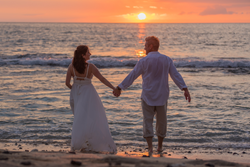 It's flexible, and people love the fact that all they have to do is show up and get married that day.
KONA, Hawaii (PRWEB) December 28, 2017
A wedding is a life event that is meant to be special, but for many couples, taking on the planning process can be stressful and overwhelming. At Vows in Hawaii, husband and wife team Larry and Donna Altshul pride themselves for making a wedding everything it should be: simple, elegant and stress-free.
Vows in Hawaii offers beautiful services for beach weddings and vow renewals, and they're known for "doing it all," as Donna Altshul says. Between the two of them, they are able to handle everything from filing the marriage certificate to providing professional photography.
"Most people we encounter want to have a special, but simple day, without having to make all the tiny little decisions that you usually have to make when you're planning a ceremony. We have one package, and that's it. It's flexible, and people love the fact that all they have to do is show up and get married that day," says Donna.
With Vows in Hawaii's beach wedding package ($495), you will receive traditional Hawaiian flair from start to finish. You'll stand in a flower heart made with fresh flowers on the sand, and the ceremony begins and ends with traditional conch blowing from a Hawaiian shell. There's also a flower lei exchange, a blessing, vows exchange and ring exchange, unity sand ceremony and ti leaf tradition. You will also take home a license certification, a keepsake certificate and a sand ceremony keepsake.
The ceremony can take place on Kukio Beach, Mauna Kea Beach, Hapuna Beach and Anaeho'omalu Bay, or any other beach that the State allows – all beautiful beaches on the Big Island. "Many visitors do not know that you have to get a permit to get married on the beach," says Donna. "We make sure that we do everything right by the State so you don't have to worry about anything."
Larry and Donna are both licensed by the State of Hawaii to officiate at weddings and vow renewals. Larry's background as a concierge for many years in the hotel and visitor industry, combined with his wife Donna's professional photography skills, make them a perfect wedding power couple. There are multiple photography packages to choose from, and Donna's involvement in putting together the ceremony gives her an advantage as the photographer to find the best shots, as opposed to hiring an outside photographer.
Donna adds, "Here's our promise to our customers: we understand how hard it can be to plan and schedule your Big Island wedding so far away or even here locally. This is why we offer the best guarantee you will find anywhere, to put your worries at ease."
About Vows in Hawaii
At Vows in Hawaii, we create an intimate, elegant wedding experience for you and your guests directly on the sandy beach in full view of the sparkling, white tipped surf. We offer non-denominational ceremonies and can officiate at weddings and vow renewals. Allow us to help you create an experience you and your loved ones will remember for a lifetime. For more information, visit vowsinhawaii.com or call us at (808) 498-4343.