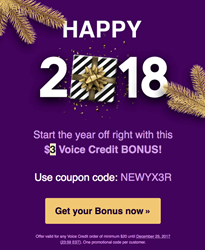 Indians abroad get $3 Bonus coupon and the chance to win hundreds of international minutes to call India from PhoneIndia.com, the platform serving the Indian diaspora.
ATLANTA (PRWEB) December 27, 2017
PhoneIndia.com, the platform serving Indian expats and travellers worldwide, gives away a new $3 Bonus coupon code for New Year: NEWYX3R on Voice Credit orders of minimum $20. The coupon can be used in the checkout between December 27-29, 2017 by anyone holding a free account on PhoneIndia.com.
On Facebook too, there are high chances of winning $10 in one of the two challenges (contests) announced between December 28, 2017 - January 2, 2018. Anyone is welcome to leave a comment in the PhoneIndia Facebook community and win up to 806 international minutes to call mobiles and landlines in India: https://www.facebook.com/PhoneIndia/
Two Facebook prizes will be given away between December 28, 2017- January 2, 2018 and winners will be randomly picked from those who left a comment to one of the 2 challenges on the page. The contests are fun and simple, and everyone is welcomed to join and get a chance to win free calling balance.
It takes only few seconds to make a Voice Credit purchase on PhoneIndia.com, and balance never expires, which is what most customers appreciate about this service in comparison with a monthly plan. The credit can be used for calls to both landlines and mobile phones in India, as well as other destinations.
The regular rate to call India is 1.24 cents/minute to call both landlines or mobile phones. Yet, the best deal is less than 1 cent: 0.7 cents/minute. This rate is available if one chooses one of the plans India 1400 or India 3000, which bring 1400 international minutes to call India for $9.99 / month, while the latter 3000 for $19.99 / month.
No hidden fees apply on calls with PhoneIndia.com. Plus, whichever the calling service, Voice Credit or a plan, there are two ways to call:
-from any phone without WiFi or cellular data connection using an access number
-or using KeepCalling app, which is free to instal on Android and iOS devices.
Besides the calling service (Voice Credit or a plan), PhoneIndia.com also facilitates mobile credit transfers to top up friends' and family members' cellular phones in India. One needs to fill in a form on the website with all necessary details of the beneficiary: the phone number that is to be loaded, the country, the local operator and the amount to be sent. The balance reaches the destination immediately and can be used according to the Terms of the local operator of that particular number. The operators in India that welcome mobile credit transfers from relatives living abroad are: Vodafone, Airtel, idea, BSNL, Jio, Docomo, Videocon, Aircel, MTNL, MTS, Reliance, TATA Indicom, Uninor.
Payment on the website is very easy and safe. PhoneIndia.com favors all major credit/debit cards as well as Paypal. All currencies are accepted, no matter the country where the order is placed.
What many customers appreciate about PhoneIndia.com, as their reviews prove:
-Regular Facebook contests and website giveaways
-24/7 responsive Support
-Flexibility of the service: anyone can cancel, and make changes without any penalties
-Free features
-Loyalty gifts
PhoneIndia.com is a website serving the Indians living and working away from their motherland in the USA, Canada, Australia, Asia and Europe. It is a brand of KeepCalling, a global telecommunications company registered in 2002 in USA, who launched International Homesickness Day for the first time in history in 2016. Presently, KeepCalling provides its services to hundreds of thousands of consumers , with a focus on customer satisfaction. KeepCalling was listed by Inc 5000 as one of the fastest growing companies in the USA for 5 consecutive years.