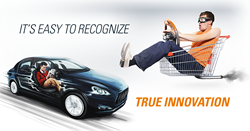 It is important to know what you are buying. Surgent's platform is based on real-time algorithms and produces a completely personalized learning experience. This makes it the only true adaptive platform on the market." - Evan Kramer, CEO of Surgent CPA Review
DEVON, Pa. (PRWEB) January 02, 2018
In a newly launched marketing campaign, Surgent CPA Review highlights how its innovative adaptive technology is a truly differentiated platform in the CPA Review market.
Surgent's proprietary A.S.A.P. Technology generates personalized study plans tailored to each student's unique needs. The study plans are determined based on real-time algorithms that continuously adapt the course based on student performance. The adaptive technology identifies what the student knows and does not know as he or she studies. The study program adapts in real time, producing study material aimed at improving the student's weaker areas. As the student progresses, the adaptive technology computes a trending score that allows the student to better asses his or her relative preparedness for the CPA Exam. The result: Surgent students now have pass rates that are nearly double the national average while saving up to 400 hours of study time.
"We decided to launch this ad campaign in an effort to help students better understand adaptive technology and its benefits," states Evan Kramer, CEO of Surgent CPA Review. "The market has utilized the term 'adaptive' in many ways, but very few of the platforms marked as 'adaptive' are truly adaptive. It is important to know what you are buying. Surgent's platform is based on real-time algorithms and produces a completely personalized learning experience. This makes it the only true adaptive platform on the market."
The first series of ads address this point directly, stating "It's easy to recognize true innovation" and depicting a self-driving car vis-à-vis a ridiculous and dangerous-looking homemade vehicle.
Surgent CPA Review knows that doing things "the old way" will produce the same outcome: over-studying and lower pass rates (the national average is less than 50%). In addition to an adaptive learning approach, Surgent offers transparent feedback by giving students their Trending Score, an indicator of readiness that can be viewed either by topic or overall. Thanks to this stand-out feature, students no longer need to guess when they're ready to take the exam. Those with a Trending Score of 75% see a pass rate of 89.7%, while students with a Trending Score of 85% or above pass nearly 100% of the time. The correlation between Trending Scores and test results serve to prove that the algorithm is, in-fact, successful.
Cited as one of the best CPA Exam review course providers on the market, Surgent continues to focus on innovation to retain its position as a leading exam review provider. It's 2018, after all, a time when innovation and technology are vital in a more efficient and effective exam review experience.
--
While a young company, Surgent CPA Review founders are no strangers to the accounting or education spaces. The company was born out of Surgent, a 30-year leader in tax, accounting, and finance professional education. Since Surgent CPA Review's launch in August of 2015, the company has quickly become the fastest-growing exam prep course in the industry. Its trademark A.S.A.P Technology delivers an algorithmic-based adaptive learning experience that is targeted to an individual's unique areas of need. Surgent students save up to 400 hours of study time, and achieve pass rates that are nearly double the national average.