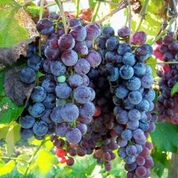 "As a family winery and vineyard, we know the importance of food, friends and a sense of home." Liz- Owner of Hightower Creek Vineyards
KNOXVILLE, Tenn. (PRWEB) December 29, 2017
Throughout 2017, the Tennessee River Valley Mapguide celebrated the Year of Sustainable Tourism by sharing favorite trip plans, each offering unique opportunities to experience conservation, recreation, and cultural heritage. Over the previous twelve months, the featured itineraries explored waterfalls, historic places, paddling adventures, geotours, and birding trails. The series launched with the Spirited Wine Trail and concludes with a toast to the Alabama Wine Trail. It is fitting testament to the Appalachian wine producers who are primarily represented by small family farmers coming back to the land and jump starting struggling rural economies in the "spirit" of the time honored traditions of this region. Today, the wine industry is an important economic engine in Southwest Virginia, the mountains of North Carolina, Tennessee, Georgia, and North Alabama.
In 2015, the North Alabama Wine Trail and Passport made its debut, inviting wine enthusiasts to experience Alabama-made wine from six wineries located in the southern tier of the Appalachian Mountains. Visitors to the region in search of a unique destination experience and who would like to experience unique flavors handcrafted in northern Alabama should check out this month's featured Trip Plan, the "North Alabama Wine Trail."
Available at http://www.northalabamawinetrail.com, the North Alabama Wine Trail is a self-guided tour featuring six wineries and tasting rooms located in Fruithurst, Heflin, Anniston, Hokes Bluff, Attalla and Albertville. The wineries are nestled in the mountains and valleys near rivers and streams taking visitors on a breathtaking drive through North Alabama. A combination of geology, soils, and climate is what gives the wine growers of North Alabama the opportunity to grow all sorts of fruits. From the cabernets to the mighty muscadines, as well as yummy fruit wines, the wine country of North Alabama
offers many unique varieties of wines to enjoy.
Every vineyard hosts wine tastings and has bottles available for purchase. In addition to the Passport, mini events are held throughout the year to celebrate the changing seasons. Events include a farm to table event to spotlight local agriculture, Wine and Chocolate each Saturday in February, Wine and Cheese each Saturday in June, Wine and Pink each Saturday in October for breast cancer awareness and a holiday open house in November and December.
The North Alabama Wine Trail Passport was created to encourage visitors to stop by all six locations and to experience unique flavors handcrafted in North Alabama. Visitors receive a stamp at each winery, and after visiting all locations; a free gift is presented as a souvenir to take home.
While in the Tennessee River Valley, be sure to check out the many other wineries and wine trails dotting the region, each offering something for every discriminating taste. Paris Winery, a 100-acre working family farm in Tennessee boasts 26 different wines to choose from,; Hightower Creek Vineyards, located in scenic North Georgia is surrounded by the Blue Ridge Mountains; Watauga Lake Winery is housed in a restored historic schoolhouse in Tennessee; and the Georgia Winery and Vineyards, the oldest winery in Georgia has served as a pioneer in the farm winemaking industry. These are just a few of the gems waiting to be explored in the Tennessee River Valley.