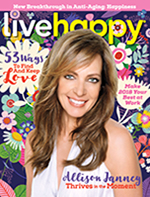 "I gave myself the gift of taking time to also listen to myself, honor my thoughts and wishes and not put myself by the side."—Allison Janney
DALLAS (PRWEB) January 03, 2018
Fans know and love her from movies and TV shows such as The West Wing and Mom, and her recent portrayal of LaVona Golden, the gritty mother of Olympic figure skater Tonya Harding in the movie I, Tonya, is already generating awards-season buzz.
In this issue of Live Happy, readers get to know actress Allison Janney off-camera as she shares intimate details of her real life, such as what brings her the most joy (walking her three rescue dogs) and how she stays calm amid Hollywood chaos (practicing meditation and taking time out for herself now and then).
"I made a commitment to be more aware of what makes me happy and to reflect on what I want to do," Janney says. "I am still focused on what I can do to make someone else happy, but I gave myself the gift of taking time to also listen to myself, honor my thoughts and wishes and not put myself by the side."
She also shares her script for the perfect Valentine's Day date, including her No. 1 rule for dating.
Readers searching for that elusive Fountain of Youth in the new year might start by looking inside themselves. As Live Happy details in its latest issue, groundbreaking new research shows that people's thoughts and behavior play a bigger role in aging than previously realized.
"The findings in our article 'Be Happy and Live Longer' are life-changing," says Deborah K. Heisz, Live Happy's CEO, co-founder and editorial director. "Happiness—much of which is under your control—is one of the greatest predictors of longevity. Simple daily lifestyle choices and habits, such as maintaining positive relationships or getting better sleep, can not only improve your mental health but also change how your body responds to aging."
Loneliness is increasingly prevalent—and one of the key predictors of depression and decline in health. The article "Lonely No More," shares four key ways to help connect with world—including spending time with people face-to-face and not just online—that promise mental and physical rewards to take readers well into the New Year.
Live Happy's February issue also includes the following uplifting features:
Dating Mindfully—In the seemingly cynical age of swipe right, swipe left, seekers can still find an authentic path to love.
33 Ideas for Romance—Sample one of these movies, songs or action tips to sprinkle more love into daily life.
Making Love Last—Married positive psychology experts Suzann Pileggi Pawelski and James O. Pawelski, Ph.D., share the science to making love last in their new book, Happy Together. "Happily ever after doesn't just happen," Suzann Pileggi Pawelski says. "Healthy habits are what build happiness over the long haul."
Building on Wins—Momentum can help all reach their goals this year; experts explain how to harness it.
The People's Champ—Laila Ali gives readers a preview of what to expect from her as host of Home Made Simple on Oprah Winfrey's OWN Network, and from her new cookbook Food for Life, available this month.
Ask Stacy Column – In this issue's Ask Stacy column, licensed psychotherapist Stacy Kaiser, who also serves as the magazine's Editor at Large, answers questions on how to be happy for others' success and how married couples can better coordinate and navigate shared financial challenges.
For more, go to http://www.livehappy.com.
Live Happy also goes beyond the pages with Live Happy Now, an inspiring free weekly audio podcast on iTunes that offers interviews with top researchers and experts in the fields of positive psychology and well-being. Readers can also visit LiveHappy.com and espanol.LiveHappy.com for even more information on finding and sharing happiness.
Live Happy is available on newsstands at major retailers throughout the U.S., including Barnes & Noble, Whole Foods and Hudson News. It can also be found at Presse Commerce newsstands in Canada, among others. Live Happy's award-winning digital edition is available to purchase from the App Store and on Google Play. Current subscribers receive complimentary access on their tablet devices and smartphones. Separate digital subscriptions are available for $9.99 at http://www.livehappy.com.
About Live Happy
Live Happy LLC, owned by veteran entrepreneur Jeff Olson, is a company dedicated to promoting and sharing authentic happiness through education, integrity, gratitude and community awareness. Headquartered in Dallas, Texas, its mission is to impact the world by bringing the happiness movement to a personal level and inspiring people to engage in purpose-driven, healthy, meaningful lives.
Media Inquiries:
Chris Libby
clibby(at)livehappy(dot)com
(469) 754-9437
Donna Stokes
dstokes(at)livehappy(dot)com
(469) 754-9436