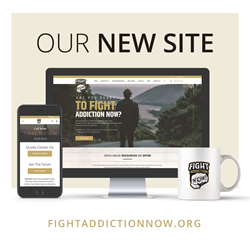 With the community growing so quickly, it made sense to expand Fight Addiction Now to a new home outside of Facebook.
PHOENIX (PRWEB) January 05, 2018
Fight Addiction Now, an online community and support group for individuals who have struggled with substance abuse, mental health issues or addiction to drugs and alcohol, has relaunched its website to act as an extension of the community it fostered as a popular group on the social media network Facebook.
Fight Addiction Now, also referred to as FAN, started as a simple Facebook page where people who struggled with drugs and alcohol – either personally or within the family – could socialize or share memes, conversations and images that were meaningful to them and like-minded peers.
The page quickly drew the attention of many Facebook users and ballooned to more than 135,000 actively participating members, as of December 2017. With the community growing so quickly, it made sense to expand Fight Addiction Now's presence outside of Facebook.
Fightaddictionnow.org is now an educational and interactive website where its community can discuss and share even more with each other, in addition to having easy access to free resources that address drug, alcohol, mental health and addiction issues. The biggest addition to the community website is a virtual forum, open to the public for discussions on a wide variety of topics around addiction, receiving treatment and staying sober.
The site also has dedicated sections where individuals can share stories of their past struggles or current successes, and they can post memorials of friends and loved ones who have lost their battles against addiction. In addition, the site educates readers on the various stages of the addiction treatment process and allows them to start a live chat with a Fight Addiction Now representative regarding current struggles or for guidance in finding appropriate treatment.
The relaunch of Fight Addiction Now's website is just the first phase in a series that will execute additional ideas for bringing together those that have been touched by substance abuse and addiction. By giving a sense of community to those that often feel alone, helpless or hopeless, Fight Addiction Now strives to convene a network of peers that can offer support, relay stories of past addiction struggles, and give informal advice on how to maintain sobriety.
To experience the all-new Fight Addiction Now website, please visit https://fightaddictionnow.org/ today.