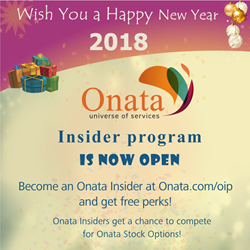 EDISON, N.J. (PRWEB) December 28, 2017
Onata, in its web app and mobile app forms, has created an ecosystem for the services industry where service providers and seekers congregate to fulfil their needs. As the curtain raiser for its launch, Onata is announcing its Onata Insider Program (OIP). The Onata Insider Program is open from today (December 27) thru the end of Feb 2018. All Onata registrants who register on the web (http://www.onata.com/oip) or through downloading the app on iOS (will be released soon) or Android stores, get a $5 credit toward future services. Discover more exciting perks at http://www.onata.com/oip.
In a recent statement, Krishna Vemuri, CEO and Product Architect of Onata, said, "We, at Onata, wish everybody a Merry Christmas and a Happy New Year 2018. Today, Onata is rolling out the Onata Insider Program (OIP) to reward our early registrants. You are invited to register at Onata.com to experience Onata, and claim a spot in the pre-launch bonanza. Register at http://www.onata.com/oip and we will credit $5 toward your future services. Once in, you can join other Onata Insiders to race toward 100,001 shares from Onata stock options, the GRAND PERK. Be there before everyone else! Explore and Get Surprised to know what we have wrapped inside OIP."
Jyoti Vazirani, the Co-founder, added:
"Onata is promoted by people who have lived the following different phases of life:

being a parent to infants, toddlers, school going kids, college going kids, and pets
living in an apartment, a townhome, and a single family home
doing odd jobs or staying home to support the family
having pets, automobiles, appliances, offices
having more time and less less money, and more money and less time
looking for a neighbor to borrow the snow blower for free or for a price to lending the same for pride or price to neighbors
looking for help to drop the kids to the swimming class, when a last minute meeting was scheduled at the office
being a high schooler looking for some work part time, or some help in calculus homework assignment
looking for a piece of work in the neighborhood at my convenient hours to support family
"At every stage of life, we felt the need for services that are affordable, and on demand. We created the answer, more of a consensus, to help the ones like us who are in different phases of their life cycle of life. That answer is Onata ™, the Universe of Services™ in a Jiffy™.
"Visit us at http://www.Onata.com/OIP, register, refer more people and race to win the Grand Perk, Onata Stock Options!
"Onata Insiders get to experience the beta version of our first service 'NEIGHBOURHOOD SERVICE', an exciting way to define your neighborhood and seek TRUSTED services among neighbors."
Jyoti further stated: "Our tech-filled lives leave us with little time for one another. At Onata, we have re-employed the same technology that has driven people apart to bring them back together. Good days are coming, come on and explore Onata!!"
About the Company
Onata.com is a services eco-system available on web and app stores for service providers and seekers Onata will be available through App Store, Play Store, and as a web app soon.
For more information, please contact:
Krishna Vemuri
CEO and Product Architect
Phone: 732-236-8877
Email: kvemuri(at)onata(dot)com
Website: http://www.onata.com