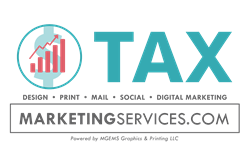 Tax Marketing Services is the one-stop stolution for all tax and accounting business needs
KENDALL PARK, N.J. (PRWEB) December 29, 2017
Tax Marketing Services, powered by MGEMS Graphics and Printing LLC, is preparing to help tax professionals and accountants create a complete marketing strategy. With over 15 years of tax preparation experience, this company understand that accounting and finance industry. Thus, Tax Marketing Services know just what these businesses need to grow and build towards success.
The focus of Tax Marketing Services is all-in-one marketing. A common mistake within smaller accounting businesses is inconsistent marketing across different mediums. By combining traditional methods with modern strategies, Tax Marketing Services has created an all-around marketing solution to help Tax Business owners grow their company. The team behind Tax Marketing Services focuses on four primary marketing areas: Print/Design, Social Media, EDDM, and Digital Marketing. All packages are available separately or together in their bundle deal: the Full Marketing Solution.
Print/Design focuses on traditional print marketing as well as designing matching banners across social media platforms. Their Social Media package includes both marketing and management services. This encompasses content curation, scheduling, giveaways, and more. Tax Marketing Services also provides EDDM service which includes design, printing, bundling, and more. Their Digital Marketing package is where they provide things like email and video marketing, website design, and search engine optimization.
Tax Marketing Services is the one-stop solution for all tax and accounting business needs. Their service packages as well as the Full Marketing Solution are available now for pre-orders at the official Tax Marketing Services website. There, a more in-depth explanation of their services as well as pricing quotes are available for all interested tax and accounting business owners.