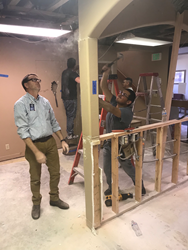 Students from District 2's Career Readiness Academy (CRA) conducted demolition and framing at the Housing & Building Association of Colorado Springs' offices on Dec. 14-15
COLORADO SPRINGS, Colo. (PRWEB) December 28, 2017
The Housing & Building Association of Colorado Springs (CSHBA) welcomed 10 students from District 2's Career Readiness Academy (CRA) to their offices at 4585 Hilton Parkway on Thursday, Dec. 14 and Friday, Dec. 15 for a very hands-on class project: demolition and framing preparatory to a total remodel of the organization's offices.
The CRA students are all participants in CSHBA's Careers in Construction (CiC) program, which has helped reinvigorate vocational education in four school districts across the Pikes Peak region. Today, 320 students participate in the program, which was launched in 2015.
Under the guidance of CRA instructor Jeff Stuber and Lain Chappell of Solid Rock Custom Homes, the general contractor of the project and a CSHBA member company, the students helped prep the office space for a remodel and garnered valuable experience on an active job site.
"It was really gratifying to see these kids spring into action and watch the program come to life on the ground," said Renee Zentz, CSHBA's CEO. "We love seeing their progress; we're hopeful that this mini-internship model is something that can be applied to all CiC programs so we can further connections and opportunities for students and the building industry."
"Getting out of the workshop lab and into a working jobsite was just awesome," added Stuber. "You can just picture them walking into different career paths. The CiC program is a wonderful option for our students."
Careers in Construction is a nonprofit workforce development initiative formed by the Housing & Building Association of Colorado Springs and the Associated General Contractors. It is funded and supported by both residential and commercial industry member businesses. Learn more and support the program here.
###
About the Housing & Building Association of Colorado Springs
Homes are a cornerstone of the American dream and a major driver of our economy. The Housing & Building Association of Colorado Springs (CSHBA) was founded in 1950 as the voice of the homebuilding community and associated trades. We advance best practices, advocate for affordable housing, contribute expertise to regional development issues and serve our community through our workforce initiatives and HBA Cares programs. Find out how we're helping to build a better Colorado Springs at cshba.com.