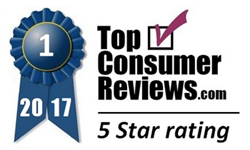 When it comes to gift clubs, Amazing Clubs is almost always at the top of the list for quality, reliability, and plain old fun.
OVERLAND PARK, Kan. (PRWEB) December 28, 2017
TopConsumerReviews.com recently awarded a five-star rating for 2017 to Amazing Clubs' Dessert Club, an industry leader in Dessert Club subscription services.
Subscription boxes are one of the hottest trends in shopping and gift-giving, and Dessert Clubs have become an increasingly popular variety of these membership services. Whether given as a gift, or purchased for oneself, a membership in a Dessert Club delivers tasty new treats right to the home or office. From cookies and brownies to cakes and more, shipments can be scheduled monthly, bimonthly, or quarterly depending on the customer's needs and budget.
"When it comes to gift clubs, Amazing Clubs is almost always at the top of the list for quality, reliability, and plain old fun," according to Brian Dolezal of TopConsumerReviews.com, LLC. "Customers who subscribe to their Dessert Club won't be disappointed, as Amazing Clubs keeps an extremely high level of customer satisfaction as shown by hundreds of positive reviews across a variety of club types. Whether you're looking for a short-term membership of 3 months or longer plans of 6 or 12 months, you'll find that their Dessert Club is flexible and affordable. For all of these reasons, Amazing Clubs' Dessert Club earns our highest rating and is our top pick in 2017."
To find out more about Amazing Clubs' Dessert Club and other providers of Dessert Club memberships, including reviews and comparison rankings, please visit the Dessert Clubs category of TopConsumerReviews at http://www.topconsumerreviews.com/dessert-clubs/.
About Amazing Clubs
Amazing Clubs was founded in 2003 with the purpose of providing the highest quality gourmet items available to their membership customers. In the years since, their subscription clubs have expanded to include more than three dozen categories, from coffee and tea to candles and dog treats. Based in Stamford, CT and with offices in two other states, Amazing Clubs has been featured in The Wall Street Journal and USA Today and its one million customers make them the largest Gourmet Gift of the Month Club retailer in the world. Amazing Clubs is a division of ICG America, Inc.
About TopConsumerReviews.com
TopConsumerReviews.com, LLC is a leading provider of independent reviews and rankings of hundreds of consumer products and services. From Dessert Clubs to Gift Baskets and Perfume Stores, TopConsumerReviews.com delivers in-depth product evaluations in order to make purchasing decisions easier.