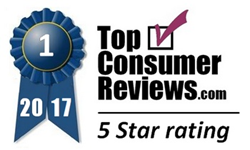 In 2017, Overstock is the clear winner among retailers of Feather Beds, and we give them our highest possible rating.
OVERLAND PARK, Kan. (PRWEB) December 28, 2017
TopConsumerReviews.com recently awarded their highest five-star rating to Overstock, a market leader in Feather Beds.
What does it take to get a good night's sleep? Some may say it's the air temperature, while others may have a preference for the type of bedding. However, many people agree that the most important component is the sleeping surface: the right temperature and sheets can't make up for an uncomfortable bed. Feather Beds are an easy, effective way of not only having a comfortable surface, but also regulating temperature - keeping sleepers warm in the winter months and cooler in the summertime. Unfortunately, selection at local retailers can be extremely limited, leaving customers driving all over town in the hopes of finding, much like Goldilocks, the Feather Bed that is "just right". It's no wonder that the savviest shoppers are turning to online retailers to get the best selection and prices, and getting their Feather Bed delivered right to their home.
"Overstock is a top choice for Feather Beds," explained Brian Dolezal, of TopConsumerReviews.com, LLC. "With more than 100 styles to choose from, ranging from entry-level microfeather fill to 800-fill European goose down, Overstock is bound to have what you need. Better yet, you can see what other customers have to say, because most Feather Beds they carry have an impressive number of reviews from actual users. Overstock's prices are extremely competitive, and the retailer has frequent sales and other discount offers to make it even more affordable. Shipping is free on most of the Feather Beds that they sell, and further savings are available through Overstock's membership program. In 2017, Overstock is the clear winner among retailers of Feather Beds, and we give them our highest possible rating."
To find out more about Overstock and other online retailers of Feather Beds, including reviews and comparison rankings, please visit the Feather Beds category of TopConsumerReviews.com at http://www.topconsumerreviews.com/feather-beds/.
About Overstock
Overstock is an online retailer based in Salt Lake City, Utah that sells a broad range of products at low prices, including furniture, décor, rugs, bedding, and home improvement. In addition to home goods, Overstock offers a variety of products including jewelry, electronics, apparel, and more, as well as a marketplace providing customers access to hundreds of thousands of products from third-party sellers. Additional stores include Pet Adoptions and Worldstock, dedicated to selling artisan-crafted products from around the world.
About TopConsumerReviews.com
TopConsumerReviews.com, LLC is a leading provider of independent reviews and rankings of hundreds of consumer products and services. From Feather Beds to Foam Mattresses and Restless Leg Syndrome, TopConsumerReviews.com delivers in-depth product evaluations in order to make purchasing decisions easier.