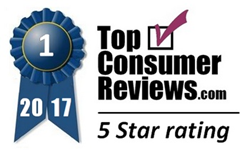 It is our pleasure to name Lenox as our top choice for China Dinnerware as our highest-ranked retailer in 2017.
OVERLAND PARK, Kan. (PRWEB) December 28, 2017
TopConsumerReviews.com recently gave a best-in-class 5-star rating to Lenox, a leader among stores offering China Dinnerware.
From dinner parties to traditional holiday meals with family, china dinnerware takes any occasion from everyday to elegant. A tradition dating back at least a century, even today's modern brides still register for the pattern they want to see on their table - and maybe even on their grandchildren's someday, as high-quality china is often passed down for generations. However, finding that perfect design by a quality manufacturer can be difficult at best when shopping at brick-and-mortar stores, who often carry a limited selection of brands and patterns. For this reason, many shoppers looking for fine china turn to online retailers, putting the world's widest selection at a mouse click away. Better yet, these retailers tend to have prices that are more competitive than what can be found in local stores.
"If you're looking for longevity, quality, and reputation, look no further than Lenox when shopping for China Dinnerware," explained Brian Dolezal of TopConsumerReviews.com, LLC. "For more than a century, the Lenox brand has been associated with style and service alike; even today's choosiest shoppers give their fine china the highest possible reviews, and their customer service is second to none. This is most evident in their offer of half-price replacements for older items that eventually break, as well as their 30-day, 100% money-back guarantee on all purchases. It is our pleasure to name Lenox as our top choice for China Dinnerware as our highest-ranked retailer in 2017."
To find out more about Lenox and other sellers of China Dinnerware, including reviews and comparison rankings, please visit the China Dinnerware category of TopConsumerReviews.com at http://www.topconsumerreviews.com/china-dinnerware/.
About Lenox
Lenox Corporation is a market leader in quality tabletop, giftware and collectibles. The company markets its products under the Lenox, Dansk and Gorham brands. A shared commitment to quality and design puts their brands among the best known and respected in the industry. Collectively, Lenox Corporation's brands span 340 years of tabletop and giftware expertise. As the most trusted tabletop name in the US market, their bone china is still manufactured at their Kinston, North Carolina facility.
About TopConsumerReviews.com
TopConsumerReviews.com, LLC is a leading provider of independent reviews and rankings of hundreds of consumer products and services. From China Dinnerware to Luggage Stores and Wedding Dresses, TopConsumerReviews.com delivers in-depth product evaluations in order to make purchasing decisions easier.