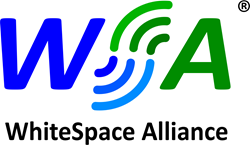 CHELSFORD, Mass. (PRWEB) December 28, 2017
The WhiteSpace Alliance (WSA®), a global industry organization enabling sharing of underutilized spectrum, today announced that it has published a significant expansion of its test vector format specification for Wi-FAR ® networks. The specification defines a standard, implementation-independent language for test vectors to evaluate and certify interoperability of TV white space Wi-FAR implementations. The enhancements were proposed by AmeriSys Inc of Canada and approved by WSA members.
Wi-FAR is a WSA-developed derivative of the IEEE 802.22 Wireless Regional Area Network standard, supporting line-of-sight and non-line-of-sight broadband services at distances up to 30 km. The technology enables deployment of middle- and last-mile Internet services to regional, rural and remote areas, and can support a range of current and emerging infrastructure applications such as Internet of Things (IoT).
The format update significantly expands the functionality of the original WSA specification, adding new MAC layer commands and header parameters, as well as a base station reference model. It also incorporates detection and reporting of incumbent service providers, supporting coexistence with TV broadcasters. In addition, the expanded specification provides a first-in-the-industry format for testing a new data transmission scheme, defined in the IEEE 802.22 Wi-FAR standard. The IEEE "payload broadcast mode" uses a simplified communication protocol to stream data to all network devices tuned to that channel. This transmission mechanism is similar to methods currently used in TV and radio broadcasting, and could significantly reduce the cost of networking equipment.
"WSA continues to move aggressively to foster development and deployment of standards-based, multivendor TV white space solutions," said Dr. Apurva N. Mody, Chairman of WhiteSpace Alliance. "Our latest test format enhancements foreshadow effective coexistence and interaction of video, voice, data and TV broadcast services from multiple providers, enabling optimal utilization of valuable spectrum resources."
The updated Wi-FAR testing format is available immediately to members of the WhiteSpace Alliance.
WhiteSpace Alliance, developer of Wi-FAR®, and WSAConnect® interoperability specifications, has a following of more than 200 major commercial, academic, government and regulatory organizations around the world. WSA member organizations benefit from access to technical specifications that decrease development costs; expanded access to global markets, regulators and government agencies; and ongoing marketing support at no additional cost. Consumers benefit from a multi-vendor, interoperable ecosystem that brings down the overall cost of broadband access. For more information on WhiteSpace Alliance, please visit http://www.WhiteSpaceAlliance.org
About WhiteSpace Alliance
The mission of the Whitespace Alliance (http://www.whitespacealliance.org) is to promote the development, deployment and use of standards-based products and services as a means of providing broadband capabilities via WhiteSpace spectrum. By promoting the use of standards, the Alliance will enable companies to provide broadband connectivity at reasonable cost. The WSA will also act as an enabler of the emerging white spaces ecosystem by helping to put in place interoperability, conformance, and compliance testing to make sure that our member stakeholders get the needed information & collaborations to succeed both in the market place and with regulatory requirements. Interoperability specifications will allow multiple vendors to enter the market and help to reduce the costs for the consumers. WhiteSpace Alliance promotes the use of IEEE, 3GPP and IETF Standards for use in the WhiteSpaces.
WSA, Wi-FAR and WSAConnect are registered trademarks of the WhiteSpace Alliance.