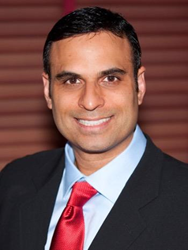 Chicago, IL (PRWEB) December 29, 2017
Patients in need of implant supported dentures are now welcome to take advantage of the promotion being offered by Dr. Amarik Singh. Dr. Singh is a periodontist in Chicago, IL, who now offers implant supported denture solutions starting at $5,000. A leader in periodontology, Dr. Singh frequently teaches clinicians the latest implant dentistry techniques and has placed over 15,000 dental implants.
Individuals with significant tooth loss now have a reliable alternative to traditional dentures. By offering this promotion, he seeks to help more patients with significant tooth loss experience the benefits of implant supported denture appliances. An implant supported denture is ideal for individuals who have lost all or most of the teeth on their lower or upper jaw. Dental implants have a few benefits over traditional denture appliances. They are more secure and do not carry a risk of slipping out of the mouth while speaking or eating. They also stimulate the jaw bone and prevent deterioration due to the position of the implant posts in the jaw bone. Many patients prefer implant supported denture appliances because they are natural-looking tooth replacement solutions that can last a lifetime.
There are two implant supported denture types: ball-retained and bar-retained. The ball-retained type has attachments on the top of the implants that are ball-shaped. They are designed to fit into sockets on the denture and hold it in place. The bar-retained type of denture is designed to clip onto a thin metal bar attached to the implants. Both types are reliable and come with an acrylic base denture that looks like real gums. The teeth are typically made from acrylic or porcelain for a natural appearance. Between two and four implant posts are typically placed in the jaw to provide ample support to the denture.
Patients interested in receiving implant supported dentures and want the best treatment outcome possible are encouraged to visit an experienced periodontist in Chicago, IL. Dr. Singh is an accomplished periodontist who has extensive experience providing the implant supported denture solutions patients need. To schedule an appointment individuals with significant tooth loss are invited to call Periodontal Implant Associates at 630-424-9404 or visit the website at http://www.pidentists.com.
About the Doctor
Periodontal Implant Associates is a periodontal practice offering personalized dental care for patients in Oak Brook, IL and the Chicago area. After graduating from Northwestern University Dental School, Dr. Amarik Singh went on to obtain his Specialty Certificate in Periodontics and earn his Master's from Northwestern University. Dr. Singh is deeply committed to continuing education and prides himself on remaining on the cutting-edge of the newest techniques and technology in dentistry. Dr. Singh has placed over 15,000 dental implants using minimally invasive techniques and is part of an elite group of dental professionals at the forefront of the Chao Pinhole® Surgical Technique (PST™), a revolutionary new approach to repairing gum recession. To learn more about the periodontal services available at Periodontal Implant Associates, please visit http://www.pidentists.com or call 630-424-9404.