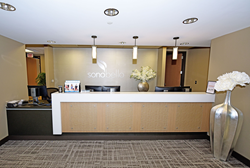 WESTERVILLE, Ohio (PRWEB) December 30, 2017
Palmetto Construction Services, LLC provided construction services for a new 8,000 sf Sono Bello Body Contouring Center. The Sono Bello Company specializes in state of the art facial and body cosmetic procedures perfumed by one of their more than 100 board certified plastic and facial plastic surgeons. This project consists of converting a former insurance office into a new 8,000 sf plastic surgery suite with over a dozen procedure and exam rooms.
The scope of the work included selective demolition, upgrades to the existing mechanical and electrical systems, new utilities for exam and procedure rooms, and updated finishes throughout. While the project did not start out as a design build project, it's nearly $1 million construction cost led CBRE and Sono Bello to approach Palmetto to drive out costs after permitting to get to more affordable lease terms, without sacrificing the tenant's business image. Palmetto worked closely with their core subcontractors to act in a design build capacity to value engineer over $10/sf in savings while maintaining a stately design. The project is currently finished and opened in mid-November of 2017.