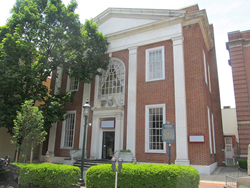 The Ghost Pit documented several paranormal interactions.
CHAMBERSBURG, Pa. (PRWEB) December 29, 2017
A few days before Christmas, the Franklin County Visitors Bureau teamed up with The Ghost Pit to investigate paranormal activity at 15 South Main Street, which is the future home of Franklin County tourism offices and new visitors center. The bank building, rebuilt following the 1864 Confederate burning of Chambersburg during the Civil War, served the community for 150 years as a bank. The final institution to operate from 15 South Main was Santander Bank, vacating the site in May 2015.
The Ghost Pit investigative team, led by founder Brian Phillips, documented several paranormal interactions, including a playful exchange with a young boy and more serious ones with a stern 19th century bank executive and a 20th century bank guard. All interactions were benevolent. The Ghost Pit plans to return to the property after its fertile first investigation. Phillips said with work and activity in the building during its renovation, the amount of paranormal activity is likely to increase. So, the team plans to return in 2018.
Another downtown fixture, the Capitol Theatre, which is a converted 1927 movie theatre, was investigated in early December for paranormal activity, confirming the spirit of organist-manager Wilford Binder is still taking care of the theatre. Wilford is joined by several other spirits that continue to enjoy the theatre. Over the years, paranormal activity at the Franklin County Old Jail and the Chambersburg Heritage Center have also been reported. The new visitors center, Capitol Theatre, Old Jail, and Heritage Center are part of the Chambersburg Historic District on the National Register of Historic Places.
Those intrigued and interested in learning more are invited to join the Ghost Pit and the Capitol Theatre to learn the ins and outs of an investigation and then graduate into participating in an actual paranormal investigation. The Paranormal Investigative Ghost School is set at the Capitol Theatre for Saturdays, December 30, February 24, and April 7. Open paranormal investigations at the theatre are set for Sundays from noon to 3 PM on January 14, March 11, and April 15 as well as Sunday 4 PM to 7 PM on February 11.
Exploring paranormal activity with The Ghost Pit is just one way to enjoy Franklin County PA. The Franklin County Visitors Bureau invites all to explore history, arts and architecture, recreation, natural beauty, fresh foods and the warm hospitality of communities like Chambersburg, Greencastle, Mercersburg, Shippensburg, and Waynesboro. Franklin County PA is located just north of the Mason Dixon Line and is an easy drive to Washington DC, Philadelphia, and Pittsburgh. Discover more. Plan a visit at ExploreFranklinCountyPA.com or by contacting 866.646.8060.