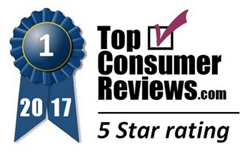 For all these reasons, we're pleased to name Wayfair as our top pick for Hot Tubs in 2017.
OVERLAND PARK, Kan. (PRWEB) December 29, 2017
TopConsumerReviews.com recently gave a best-in-class 5 star rating to Wayfair, a leader among online retailers who sell Hot Tubs.
Aching muscles, chilly weather, or entertaining friends: these are all some of the reasons why having a Hot Tub at one's home is so popular. While it's true that many hotels and gyms offer hot tubs as part of their facilities, those locations are no stranger to maintenance problems, availability challenges, and, more frighteningly, outbreaks of infectious disease. Having a hot tub at home ensures that it's always ready for a relaxing soak or for having people over. Perhaps surprisingly, the best selection of hot tubs is not found at local brick-and-mortar home stores, but rather online.
"Wayfair is a frequent first-place winner when it comes to items for the home, and we were extremely impressed by their selection of Hot Tubs as well," stated Brian Dolezal of TopConsumerReviews.com, LLC. "Gone are the days of being limited to a few models on a showroom floor: Wayfair carries more than 100 options, ranging from a 4-person inflatable model to the ultimate in luxury, a 20-foot long swim spa/hot tub combination. The website makes it very simple to sort through all of the available options, and we found that their pricing was competitive across a wide range of other online retailers. For all these reasons, we're pleased to name Wayfair as our top pick for Hot Tubs in 2017."
To find out more about Wayfair and other retailers of Hot Tubs, including reviews and comparison rankings, please visit the Hot Tubs category of TopConsumerReviews.com at http://www.topconsumerreviews.com/hot-tubs/.
About Wayfair
Wayfair's motto is that they offer "a zillion things home." With one of the world's largest online selections of furniture, home furnishings, décor and goods, including more than seven million products from over 7,000 suppliers, Wayfair helps people find the perfect product at the right price. Their extensive selection and superior customer service coupled with the convenience of online shopping, make it easier than ever before for customers to find exactly what they want for the home at a price they can afford. Wayfair is headquartered in Boston, MA, and has offices in Canada, Germany, the United Kingdom, and Australia.
About TopConsumerReviews.com
TopConsumerReviews.com, LLC is a leading provider of independent reviews and rankings of hundreds of consumer products and services. From Hot Tubs to Swimming Pool Supplies and Sunglasses, TopConsumerReviews.com delivers in-depth product evaluations in order to make purchasing decisions easier.