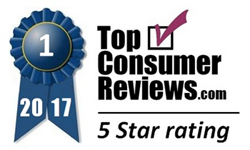 Deposit Photos carries more than 10 million images for your stock photo needs.
Overland Park, KS (PRWEB) December 29, 2017
TopConsumerReviews.com recently gave a best-in-class 5-star rating to Deposit Photos, a leader among suppliers of Stock Photos.
As more businesses, bloggers, and organizations get online, the popularity of Stock Photos is increasing rapidly. No matter the use, stock photos are an easy and inexpensive way to get high-quality, royalty-free images without having to spend money to hire a professional photographer to capture just the right photo. Best of all, the wide variety of suppliers offering stock photos for purchase online makes it more convenient than ever to get the exact image needed to convey the desired message in a blog post, on a website, or even on print media.
"Deposit Photos carries more than 10 million images for your stock photo needs," explained Brian Dolezal of TopConsumerReviews.com, LLC. "Whether you need illustrations, vector files, or pictures, you'll find them easily using a basic keyword search or by browsing Deposit Photos' 30 different image categories. Their pricing system is also easy and affordable. You can choose between a pay-as-you go plan or a subscription plan ranging from 1 to 12 months. Deposit Photos clearly stands out in the market with their ample selection of high-quality images and an easy-to-understand pricing plan, making them the obvious choice for our top ranking in the Stock Photos category in 2017."
To find out more about Deposit Photos and other online suppliers of Stock Photos, including reviews and comparison rankings, please visit the Stock Photos category of TopConsumerReviews.com at http://www.topconsumerreviews.com/stock-photos/.
About Deposit Photos
Deposit Photos is the fastest growing stock photo agency in the world. Presently it offers over 10 million stock photographs and vector images sold under royalty-free licenses. The stock photo library is increased daily by thousands of images, carefully checked and selected by moderators. The company is headquartered in Florida, USA.
About TopConsumerReviews.com
TopConsumerReviews.com, LLC is a leading provider of independent reviews and rankings of hundreds of consumer products and services. From Stock Photos to Website Templates and Web Hosting, TopConsumerReviews.com delivers in-depth product evaluations in order to make purchasing decisions easier.