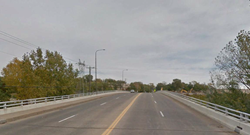 ST. PAUL, Minn. (PRWEB) December 29, 2017
Infrasense recently performed a ground penetrating radar (GPR) survey of the bridge deck carrying Lafayette Road over the Soo Line and B.N. Railroad in St. Paul, Minnesota. The GPR data collection system included dual 2GHz horn antennas and a SIR-30 control unit manufactured by GSSI of Nashua, NH. This GPR survey was carried out at normal driving speeds, with no lane closure or disruption to traffic. The results of the survey will be facilitate planning future maintenance rehabilitation efforts.
The GPR data analysis was carried out according to ASTM D6087-08 using Infrasense's proprietary software, winDECARR. The analysis involves tracking the reinforcing steel and bottom deck reflections and calculating the concrete dielectric constant, rebar concrete cover, and concrete attenuation (loss of energy through deck). The results include quantities and maps of concrete deterioration and rebar-cover, and are provided in PDF and CADD compatible formats.
Ground penetrating radar operates by transmitting short pulses of electromagnetic energy into the pavement using an antenna attached to a survey vehicle. These pulses are reflected back to the antenna with an arrival time and amplitude that is related to the location and nature of dielectric discontinuities in the material (air/asphalt or asphalt/concrete, reinforcing steel, etc.). The reflected energy is captured and may be displayed on an oscilloscope to form a series of pulses that are referred to as the radar waveform. The waveform contains a record of the properties and thicknesses of the layers within the pavement.
About Infrasense, Inc.
Since 1987, Infrasense, Inc. has applied advanced technologies to address the most difficult challenges in subsurface scanning. Infrasense's engineers nondestructively extract critical information from a diverse range of structures. In addition to providing ongoing subsurface evaluation services to clients across the country, the firm has also conducted numerous research programs to advance the field of subsurface detection and nondestructive evaluation. To learn more about Infrasense and the services we provide, visit our website:
http://www.infrasense.com