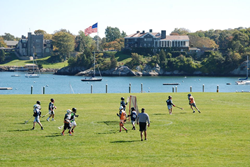 This is hands down the most fun tournament my teams, families and coaches attend all year. The schedule is great and allows time for families to enjoy the beach and the Newport Rhode Island area. The competitions is solid, the venue is easy to navigate with quality food, vendors and lots of toilets.
NEWPORT, R.I. (PRWEB) January 16, 2018
REGISTER NOW
JULY 7 - 8. 2018
2018 Rhode Island Classic
OVERVIEW
Alfie Jaques, the Iroquois Stick Maker is scheduled to be on site sharing his knowledge of the game, teaching how traditional sticks are made, and even playing some Lacrosse.
Games will be played in Newport, Middletown, Portsmouth and Bristol Rhode Island depending on the number of teams.
High School will play at the state of the art facility at Roger Williams University.
We are looking to have 3 levels of play this year, completly separate divisons with separate championship
Tournament Features:
Affordable
Family Friendly
Championship Format
Medical Trainers on site
Field Marshal's on every field
Certified Officials
Vendor Village along with Alfie making some sticks
Free Parking
Newport County Rhode Island – Rated one of the most beautiful locations for an event.
PRICING
3rd & 4th Grade Teams are only $975.
5th – 12th Grade – $1,400
DISCOUNTS FOR MULTIPLE TEAMS – info@rilaxclassic.com or 401-965-9622 for more information
DIVISIONS
All divisions will have an A & B & C Bracket unless stated otherwise. All Brackets will play a minimum of four games.
Division Grade (rising) USL Equivalent
2019 12 Varsity – 18U
2020 11 Varsity – 17U
2021 10 16U
2022 9 15U
2023 8 14U
2024 7 13U
2025 6 12U
2026 5 11U
2027/2028 3 & 4 9U & 10U
IMPORTANT DATES
Registration Open: 8/1/17
Rosters & Insurance Verification: 7/1/18
Online Player Check-in & Waiver: 7/1/18
REGISTER ONLINE NOW - http://rilaxclassic.com
Beach Dogs Lacrosse - http://beachdogslax.com
Call Marshall for more info - 401-965-9622 or info@rilaxclassic.com
Tournament Video - https://youtu.be/Yc9QQLXb8c0
Facebook - https://www.facebook.com/rilaxclassic/
Photos - https://beachdogs.smugmug.com