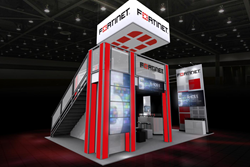 interactive engagement with products on the market is very important, especially for wearable technology. - Dave Graham, CEO of Blazer Exhibits & Events
FREMONT, Calif. (PRWEB) December 31, 2017
San Francisco trade show display design firm, Blazer Exhibits & Events, has branded a new 3D design concept rendering system, which will accommodate the expected demand in 2018 through 2024.
Markets Insider website shows 2018 trend forecast for trade show exhibit companies. Rising trends for convention exhibits include the use of some industrial features incorporated into displays as they communicate honesty and realness. Exhibits do not have to be over-industrial however. Within the annual projection, it also states to "create a theme that draws attendees in because consumers want to visit exciting, bright, and captivating booths." This is readily achieved with the use of 3D signage, leveled artistic booth design, and the use of technology. Custom trade show booths that use interactive technology allow attendees the chance to create a more memorable experience for their company.
Dave Graham, CEO of BlazerExhibits.com states that "interactive engagement with products on the market is very important, especially for wearable technology." An example of this is to have a virtual reality demonstration inside an exhibit display at a trade show. Allowing customers and prospective business to clientele to test out a new product or experience using it with a hands-on experience provides key interaction with the product itself, sales representatives, and the company as a whole.
Product learning takes place during and often directly after interactive demonstrations as personal connections are made. For prospective clients, they have the chance to experience the product firsthand to see how a business partnership can be mutually beneficial. Potential customers have the chance to stay in a booth long enough to gain an experience and learn more about all products offered. This in turn increases the odds of a successful marketing and sales campaign for overall company growth.
The Global Association of the Exhibition Industry - UFI.org reports over 30,000 trade show and conventional events took place in 2014 in America. The latest news according to BusinessInsider.com states that there are 1.8 million conventions, conferences, and trade shows combined that take place within the United States. This type of direct marketing accounts for one of the most profitable types of business-to-business (B2B) strategies in America. It also provides a clear path to consumers in order to enhance product knowledge, launch new products, increase brand awareness and drive sales.
Using 3D printing at the booth entry and throughout the overall exhibit display is important to attract potential customers or other businesses to gain the opportunity to further promote and market a business or launch a new product. The key is to retain their attention long enough to provide pertinent information that leads to sales.
In 2015, according to Statista.com, the national total dollar amount was $12.6 billion in annual revenue from trade shows and conventions in the United States. Half of the revenue generated from these events was from registration costs. Since then that dollar amount has only gone up and current projections state that it will continue to rise.
A trend for high-quality 3D trade show displays is on the rise as the CAGR (Compound Annual Growth Rate) for 3D printed materials is also up to 17% projected from now until 2024 according to Global Market Insights, Inc. The concept of using a 3D printing for exhibit designs is unlike any other conventional booth currently on the market. It is the ideal design concept for promoting a business at a trade show or convention event.
Blazer Exhibits & Events designs and fabricates custom and rental trade show booths, and maintains a 23,000 square foot design and manufacturing facility in Fremont, California, located at 4227 Technology Drive, Fremont, CA 94538
For more information please visit Blazer Exhibits and Events' website.
FORWARD-LOOKING STATEMENTS: This release contains "forward-looking statements" within the meaning of the safe harbor provisions of the U.S. Private Securities Litigation Reform Act of 1995. Forward-looking statements also may be included in other publicly available documents issued by the Company and in oral statements made by our officers and representatives from time to time. These forward-looking statements are intended to provide management's current expectations or plans for our future operating and financial performance, based on assumptions currently believed to be valid. They can be identified by the use of words such as "anticipate," "intend," "plan," "goal," "seek," "believe," "project," "estimate," "expect," "strategy," "future," "likely," "may," "should," "would," "could," "will" and other words of similar meaning in connection with a discussion of future operating or financial performance. Examples of forward looking statements include, among others, statements relating to future sales, earnings, cash flows, results of operations, uses of cash and other measures of financial performance.
Because forward-looking statements relate to the future, they are subject to inherent risks, uncertainties and other factors that may cause the Company's actual results and financial condition to differ materially from those expressed or implied in the forward-looking statements. Such risks, uncertainties and other factors include, among others such as, but not limited to economic conditions, changes in the laws or regulations, demand for products and services of the company, the effects of competition and other factors that could cause actual results to differ materially from those projected or represented in the forward looking statements.
Any forward-looking information provided in this release should be considered with these factors in mind. We assume no obligation to update any forward-looking statements contained in this report.
###