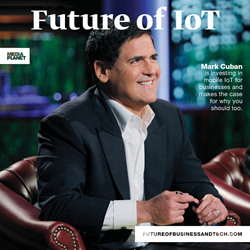 Installation of smart IoT devices give your business and its occupants numerous benefits — the same benefits that technology and personal computing have brought to us over the past 30 years
NEW YORK (PRWEB) December 29, 2017
Mediaplanet today is proud to announce the launch of this December's edition of "Future of IoT." This campaign will act as an educational guidebook to the modern business owners and IT decision makers. Educating people on the areas that IoT is having the biggest impact and advising key decision makers on how to implement IoT and build upon relevant applications in their existing business ecosystem. Advocating that IoT technology can seamlessly sync together with their daily processes in order to save time, money, and assist in making better decisions across the organization.
.
"IoT" is the term used to describe the Internet of Things: the interconnection via the internet of computing devices embedded in everyday objects, enabling them to send and receive data. Installation of smart IoT devices give your business and its occupants numerous benefits — the same benefits that technology and personal computing have brought to us over the past 30 years — convenience and savings of time, money and energy. The Internet of Things is an essential driver for customer-facing innovation, data-driven optimization and automation, digital transformation and entirely new applications, business models and revenue streams across all sectors. At the same time, challenges regarding regulation, security and data, and even a universal understanding of what IoT is and how it can be applied are still being tackled.
The print component of "Future of IoT" is distributed within today's edition of The Los Angeles Times with a circulation of approximately 450,000 copies and an estimated readership of 1.4 million people. The digital component is distributed nationally, through a vast social media strategy, and across a network of top news sites and partner outlets. To explore the digital version of the campaign, click here.
Mark Cuban, entrepreneur, owner of the Dallas Mavericks, and star of CNBC's Shark Tank, is featured on the cover of the print publication. Through an exclusive interview, Mark discusses the power of mobile IoT applications in your business. "We need to be able to communicate with stakeholders in real time, so we make sure everyone has a mobile device with common platforms for any and every type of communication," says Cuban." He believes that those armed with the right mobile strategy and devices will allow businesses to thrive while those that do not may fall by the wayside. "If you don't integrate mobile as a fundamental component of your business, you will be at a competitive disadvantage."
The campaign features several notable IoT and Industry thought leaders from Mark Cuban, Kevin Curran, Neal Ziring, Michael Rikkola, Jason Knuth, Roy Illsley, Jan Geldmacher, MIT, The Bay Area Council Economics Institute, Jim Fusaro, Lee Waskevich, Adrian Slobin, Jurgen Von Hollen, and Dmitry Dain.
This campaign was made possible with the support of Sprint, Intel's Open Connectivity Foundation, Zoho, Universal Robots, Eplus, Fortnet, Virgil Security, HSBC, The Nerdery, Komatsu, Moovel, and Avnet.
About Mediaplanet
Mediaplanet specializes in the creation of content marketing campaigns covering a variety of industries. We tell meaningful stories that educate our audience and position our clients as solution providers. Our unique ability to pair the right leaders with the right readers, through the right platforms, has made Mediaplanet a global content marketing powerhouse. Our award-winning stories have won the hearts of countless readers while serving as a valuable platform for brands and their missions. Just call us storytellers with a purpose. Please visit http://www.mediaplanet.com for more on who we are and what we do.
Press Contact:
Aaron Bernstein
aaron.bernstein@mediaplanet.com
(646) 922-1414