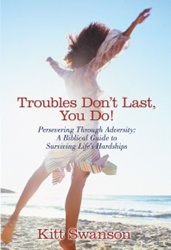 "Troubles Don't Last, You Do! is a must read when life seems hopeless and Satan's unshakable grip has you in a downward spiral. It's a biblical guide to peace and surviving life's hardships"
LAND O' LAKES, Fla. (PRWEB) February 02, 2017
Kitt Swanson marks her debut in the literary limelight with a new inspirational book, "Troubles Don't Last, You Do!" (published by WestBow Press). Written in simplicity with God's word as reassurance, this chronicling reminds readers that triumph over trials is possible with God as the benevolent guide.
"Troubles Don't Last, You Do!" is a book about spiritual persistence in a world of uncertainty, atrocity and degradation. God is infinitely more powerful to sustain anyone through every painful experience endured in life. This encourages the readers to keep pressing heavenward hand-in-hand with God.
"The challenges in this life may slow you down and rob you of your happiness and joy. Yet, you will rise above your circumstance, pain, and suffering," Swanson points out. "This book was written as a reminder to the weary that no matter what life throws your way, you are an overcomer. The atrocities you encounter won't last – you do on into eternity."
Reviews for "Troubles Don't Last, You Do!" share:

"Kitt is a connoisseur of motherhood! She epitomizes perseverance through adverse situations and is one for whom which all young ladies facing adversity are to emulate!" - S. Germon (Marriage Counselor), Brandon, Florida
"Kitt has been blessed with the gift of edification. I cannot recall a time I didn't leave her presence encouraged, motivated and inspired. Don't let this blessing pass you by. Purchase her book today!" - K. Christon, Michigan
"Her continued Faith makes her stronger than her temporary circumstances. Add this treasure to your library!" - L. Dexter, Orlando, Florida
"Troubles Don't Last, You Do!"
By Kitt Swanson
Hardcover | 6 x 9in | 108 pages | ISBN 9781512752021
Softcover | 6 x 9in | 108 pages | ISBN 9781512752014
E-Book | 108 pages | ISBN 9781512752007
Available at Amazon, Barnes & Noble, and http://www.kittswanson.com
About the Author
Kitt Swanson lives in Land O' Lakes and is a native of Syracuse, New York. Her life and the life of others inspired her to write her book. She witness her mother's murder at the tender age of 3 years old and was abducted from the crime scene. At the age of 14, she ran away from her abductee and lived in an abandon house, contemplating suicide. She met a young girl who asked her why she was crying. Swanson shared with the young girl that she was going to kill herself. The young girl asked her could she introduce Swanson to someone. Swanson agreed. The young girl introduced her to Jesus. Swanson took Jesus' hand and walked with him through life battling every obstacle Satan hurled her way. She finished high school at age 16. By the age of 26, she had completed two Associate degrees, two Bachelor degrees, a Master degree and three years in a Ph.D. Swanson found her grandmother, before she died, who told her about her father, who looked for Swanson since she was a toddler. Her father left reward notices and pictures everywhere he looked for her. Swanson reunited with her father and thereafter joined the military. She enlisted into the Air Force on February 24, 1986. Her 20 years were spent encouraging soldiers along the rocky trails of war. In 2005, she was struck in the head by lightning. Her sight was taken and returned. She overcame that ordeal and is a walking billboard for Jesus. Swanson won several writing contests, including the MacDill Air Force Base Black Heritage Contest, and was published in the Mobility Forum Command's Magazine, and also received top honors for her essay on "The Price of Freedom." She published a newsletter called "Heart-to-Heart" that turned into "Christian Medicine" at http://www.kittswanson.blogspot.com. Both venues were created to encourage the weary in all walks of life.
For review copies or interview requests, contact:
Kitt SwansonFax: 813-388-5865
Email: kitt33604@yahoo.com
(When requesting a review copy, please provide a street address.)