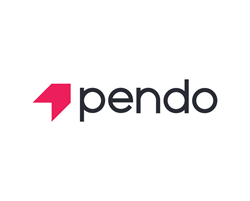 Raleigh, N.C. (PRWEB) March 08, 2017
Pendo, a data-driven platform that helps software companies deliver great product experiences, today announced the availability of a mobile application, usage tracking for mobile applications, as well as several key platform enhancements. The news was shared at Pendomonium, its product experience conference, which is taking place in Raleigh, North Carolina.
Pendo provides software product managers and teams with a powerful integrated platform to better understand and improve the product experience. Without requiring any engineering resources, organizations can use Pendo to extend their product to capture all user behavior, gather feedback, and provide contextual help inside their applications. This unique combination of capabilities enables companies to create a personalized, adaptive experience for each and every user.
"Gone are days of a 'one size fits all' user experience - today's successful software companies understand their users and provide personalized experiences to drive ROI across the board," shared Todd Olson, CEO of Pendo. "Our new mobile capabilities and platform enhancements make it easy for software companies to gain deep insight into how their products are being used and share personalized, adaptable in-app communication with users based upon their behavior."
The new mobile capabilities and platform enhancements, which will be available to Pendo customers in the next month, include:

Pendo Mobile App: Pendo customers can now access the platform and track account analytics from their iOS devices making it easier than ever to stay informed on-the-go.
Mobile App Usage Data: Pendo's iOS Software Development Kit (SDK) allows companies to track usage of their mobile applications and view in the platform alongside their web analytics. As a result, companies can deliver the right mobile capabilities to users such as field employees.
"What's New" Functionality for Highlighting Product Announcements: Pendo customers can quickly and easily share new features and functionality announcements (release notes) in their software applications. Access to usage data ensures content is personalized and highly relevant to each user and the look and feel is customizable for a seamless user experience.
In-Application Guide Authoring Enhancements: A library of new themes for many different types of in-application guides is now available. The themes can be applied and easily customized allowing Pendo customers to add elegant, highly-formatted guides to their applications quickly and with minimal effort.
About Pendo
Pendo was founded in 2013 by former product managers that have experienced the joys and challenges of creating great products at companies like Rally, Google, Cisco, and Red Hat, among others. With a powerful analytics and guidance platform designed to help companies understand and influence how users interact with their software applications, Pendo is on a mission to improve society's experiences with software. For more information, visit: http://www.pendo.io.