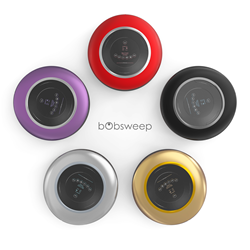 San Francisco, California (PRWEB) March 09, 2017
The tech company has been steadily building momentum since the release of its first robotic vacuum in 2011, and is now taking a more definitive step toward integrating IoT into robotic vacuums. Dustin — brother to their original robot "Bob" — gives users an unprecedented level of control through a smartphone app that enables them to schedule Dustin, customize his cleaning route, create digital walls, and more. The futuristic bot even resembles a smartphone with a sleek touchscreen interface that lights up when it senses a hand hovering above.
Dustin's comprehensive navigation system uses a combination of SLAM, STC, and machine learning. While Dustin observes his surroundings and updates his map for optimal coverage, his smartphone interface allows users to highlight portions of his map for increased attention. This new robot allows for a level of customization virtually unheard of outside science fiction, bringing us ever closer to the smart home of the future.
Dustin's sensors are also getting a sci-fi upgrade: while many robotic vacuums use only infrared sensors to detect obstacles, Dustin is pushing the industry forward with an incredibly sophisticated set of proximity sensors. Sensors used on most robotic vacuums only alert the robot if it is about to run into an object. Unlike common sensors, Dustin's time-of-flight (ToF) sensors estimate object distances regardless of their reflectance. Standard infrared sensors are notoriously fickle — dark objects register as a black "void" and glass walls evade detection. With Dustin's ToF and TSSP sensors, he easily glides along glass walls without collision. This sets Dustin apart from big brand robots that stop short when encountering dark-colored or patterned carpets.
In addition to a depth of field camera, smart tech software, network capabilities, and photon-sensitive sensors, one version of Dustin will include a steamer. That's right. bObsweep has created the first robotic vacuum that can actually steam floors. The steamer in question is a detachable module consisting of a liquid reservoir that also mops.
Dustin is of course equipped with the defining features of bObsweep's former products — e.g. a sterilizing UV light and HEPA filtration — with improvements they've been perfecting over the past six years. Using carbon fiber and aluminum alloy in his body, Dustin is lightweight and compact, yet extremely strong and durable. Dustin transitions seamlessly with wheels larger in diameter, width, and bounce range than most robovacs on the market. He also comes with bObsweep's "blOck Plus" accessory, the only accessory of its kind capable of creating two simultaneous invisible barriers.
bObsweep's original Bob held the record for dustbin size at 1000 mL — Dustin's bin surpasses that at a whopping 1300 mL. This means Dustin has 2 – 4 times the capacity of other major brands. bObsweep has also outdone the trend of transparent dustbins with one that is both transparent and backlit to allow users to easily see inside. Through a small opening, users can now quickly dump the bin without the burden of detaching it. Should they choose to remove the bin, users can rinse away germs and residue thanks to Dustin's fully submergible dustbin.
Attendees of the 2017 International Home and Housewares Show in Chicago will receive a sneak-peek of Dustin's innovative design on March 18th. Production is scheduled for August in Las Vegas, which will make bObsweep the only major brand with robotic vacuums made in the USA.
About bObsweep
bObsweep is a tech company that specializes in smart home and robotics. They have made a name for themselves with their compact, powerhouse robotic vacuum cleaners. Their first product, "bObsweep Standard," brought a 1000 mL dustbin and deep-cleaning specs to the industry. Founded in 2011 in Toronto, bObsweep focuses on bringing the future into today's homes.