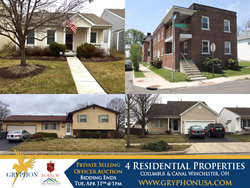 "Our Private Selling Officer process is more efficient and considerably faster than traditional Sheriff Sales and provides asset promotion and marketing that you won't see with the old process."-Richard Kruse
Columbus, OH (PRWEB) March 17, 2017
Richard Kruse, Managing Partner of Gryphon USA, Ltd, the parent company of Gryphon Auction Group, has been appointed as the first private selling officer in four Ohio counties – Delaware, Hamilton, Hardin, and Marion.
Effective September 2016, new foreclosure laws authorize an Ohio Private Selling Officer to conduct foreclosure sales, and establish procedures relating to those sales. This created a dramatic change for the foreclosure auction process in Ohio as Private Selling Officers can take the place of the sheriff in foreclosure auctions and can conduct foreclosure auctions online.
Gryphon will conduct multiple private selling officer auctions in April 2017. The online auctions consist of commercial and residential lots, retail structures and locations, an office building, single family homes, a detached condo, and a multi-family building.
"Our Private Selling Officer process is more efficient and considerably faster than traditional Sheriff Sales and provides asset promotion and marketing that you won't see with the old process. We are receiving dozens of calls a day from prospective purchasers of these properties."
Properties include:

1979 W. Northbend Ave., Cincinnati, Ohio
717 Delaware Ave., Marion, Ohio
729 Delaware Ave., Marion, Ohio
724 Lima St., Kenton, Ohio
132 London Rd., Delaware, Ohio
5829 Westbank, Galloway, Ohio
6158 Northgap Dr., Columbus, Ohio
1116-1120 Cole St., Columbus, Ohio
5436 Poolbeg St., Columbus, Ohio
For details about each auction and property details, visit http://www.gryphonusa.com or call (614) 885-0020.
About Gryphon USA, Ltd.
Richard F. Kruse is Managing Partner of Gryphon USA, Ltd. The company oversees a receivership & asset management group, a commercial auction business and, in conjunction with Borror Properties, a full service real estate advisory practice. He is also a founding member of the Ohio Foreclosure Auction Group, a partnership of six senior real estate auctioneers throughout the State of Ohio, specializing in sales of real property in foreclosure proceedings. For more information, please visit http://www.gryphonusa.com
Contact:
Richard Kruse
(614) 885-0020
rfk(at)gryphonusa(dot)com