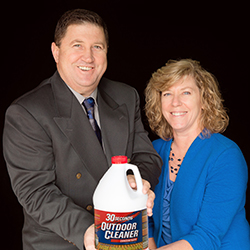 We make the alternative to power washing––an outdoor, home, patio and deck cleaner that actually delivers what it promises.
Portland, Oregon (PRWEB) March 23, 2017
30 SECONDS Cleaners––the family owned business whose colorful front man and co-owner promises the rapid demise of outdoor mold, mildew, algae and moss––is impressively competing against industry giants. The Company has just been named a Management Action Programs (MAP) 12th Annual Presidential Award Recipient for breakthrough results.
"Keeping it Simple Stupid"
"Our success has always been rooted in 'keeping it simple stupid,' remaining debt free and doing one thing really well: We make the alternative to power washing––an outdoor, home, patio and deck cleaner that actually delivers what it promises," says James Collier, 30 SECONDS Cleaners/COLLIER Manufacturing co-owner along with his wife, Jill Collier. "Now the strategies we've adopted from the MAP Management System™, have taken our Company to a whole new level."
30 SECONDS/COLLIER Manufacturing––"Phenomenal Results"
"The COLLIER Manufacturing leadership team and their employees are winners because they don't settle. They set aggressive growth goals and are challenged each month to hit their targets. COLLIER consistently raises the bar, driving accountability throughout their organization. Through their dedication and disciplined approach to their business they have achieved phenomenal results" says John Manning, president of MAP.

COLLIER Manufacturing has expanded its retail footprint nationwide, from 5,000 to over 20,000 retail stores in the last three years and includes big box home improvement warehouses, hardware and garden merchants and paint stores. It has earned coveted end cap placement.
Widened its manufacturing footprint, including two fully operational production and distribution facilities in Oregon and Tennessee.
Earned a 32 percent increase in sales growth from 2015 to 2016 and year over year growth, while maintaining profitability.
Added new product solutions to meet market demands, from 5 to 15 SKUs.
Earned coveted end-cap placement in retailers with rolling video of James Collier demonstrating 30 SECONDS Cleaners.
Family Owned Since 1977
30 SECONDS Cleaners was started in 1977 by Jill's father, Al Goetz. In 1993, James and Jill began selling the product in New Zealand, where they won the government's Export Commendation Award. With the goal of delivering that success in the US, the couple returned to the states and bought the Company.
"There was no big facility," laughs Collier. "I sat on a dirt floor in my shed, using a jug and funnel for mixing. Then we started taking that magic formula store to store." "We began with just two-thousand dollars," says co-owner Jill Collier. "We've never borrowed money and don't over-engineer what is a winning and simple process. That's all foundational to the way we grow our business and raise our three children."
"Our focus going forward is smart growth in leadership, sales, marketing, distribution and creating jobs. We're having the time of our lives!" says James Collier.
For more information:
Media: Shirley Hancock 503.781.4234; shirleyhancock753(at)gmail(dot)com
30SECONDSCleaners.com
Video: https://www.youtube.com/watch?v=136nM5rKrnI
email: info(at)30SecondsCleaners(dot)com
About 30 SECONDS Cleaners & COLLIER Manufacturing
Family owned COLLIER Manufacturing started making 30 SECONDS Cleaners in the Pacific Northwest in 2000, based on an easy solution first brewed in 1977. Now with a nationwide presence, the team at COLLIER Manufacturing loves nothing more than sharing the Woo Hoo! effect of witnessing 30 SECONDS results. Whether you're looking for a cleaner to instantly remove stains from algae, mold and mildew or to kill lichen, moss, mold and algae over time, we have the cleaning solutions for you. Safe to use on all of your outdoor surfaces, "It's Clean, when YOU want it Clean!" Proudly made in the USA.