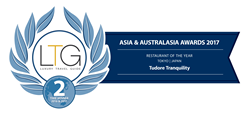 Tokyo, Japan (PRWEB UK) 10 April 2017
Tudore Tranquility, a vegetarian fine dining restaurant in Tokyo, Japan, has received the prestigious Restaurant of the Year Award for Asia & Australia from Luxury Travel Guide for the second year in a row. The restaurant, which caters not only to vegetarians, but also to vegans and gluten-intolerant diners, is well-regarded by customers and critics for its unique, delicious food and relaxing atmosphere.
Luxury Travel Guide, a publication dedicated to finding the best upscale travelling and dining experiences around the world, selected Tudore Tranquility for this award over all other contenders in the geographic region. The restaurant's owners believe that their focus on good nutrition and beautiful presentation, from the dishes themselves to the tableware, gives customers a unique experience in vegan and vegetarian dining that cannot be found elsewhere.
And Tudore Tranquility is no stranger to high marks in customer satisfaction – its reviews on Happy Cow call the restaurant "beyond comparison," and "nothing short of perfect." Popular UK television personality Nick Knowles has also provided his endorsement, describing his experience as "absolutely top-notch."
2017 marks the second year running in which Tudore Tranquility has won Restaurant of the Year from Luxury Travel Guide. They earned the same award in 2016, and intend to continue the streak next year by offering an unparalleled dining experience to Tokyo travelers and residents alike.
About Tudore Tranquility
Tudore Tranquility opened on September 2, 2015. From its inception, it has offered an unparalleled dining experience in a sanctuary away from the bustling noise of Tokyo. It is located close to Yoyogi Koen, the site for the 1964 Tokyo Olympics, which is also a proposed site for the 2020 Tokyo Olympics handball events.
For more information, please contact:
Melissa Donovan
Finedining(at)tudoretranquility(dot)org
+818050863469