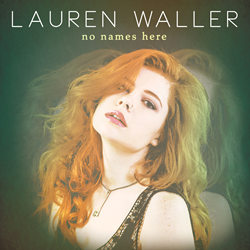 She has the voice of a superstar. - The Storm Report
Los Angeles, CA (PRWEB) April 04, 2017
Lauren Waller, a self-released singer/songwriter, pushes her creativity as she unleashes the true power of her undiluted unique perspective with an intriguing second EP "no names here" out now for purchase on all streaming services.
The infectious indie-pop single "Secret Garden" off of the "no names here" EP has already garnered global airplay support. Ultimate Music news featured Waller's self-penned single "Secret Garden" as "A cinematic dark pop piece wrapped with her soulful vocals." Waller has previously shared the stage with world-renowned musicians.
As a performer, her powerhouse voice has been featured internationally in New Musical Express (NME) and Alert the Globe. She garnered further attention with her 2016 EP "Perhaps." Waller's first standalone single "Never Were" which she debuted live on national television in Ireland also received extraordinary professional commentary from a review panel of global music industry executives. A review from Music Existence declares that Waller's music is "Captivating from note one," and "In your face and abrasive in the best way." The Storm Report's music radar feature has observed, "She has the voice of a superstar." Music lifestyle magazine, Coming Up, describes Waller's blend of indie, pop, rock music as "Versatile as a pocket knife."
Waller will be performing her new music live on May 1, 2017, at the upcoming prestigious MUSEXPO showcase in Hollywood, California. She will also graduate from Pepperdine University in Malibu, California this month earning a Bachelor of Arts in Theatre Arts with an emphasis in Production and Design.
Waller celebrates the global connection that music brings to its audience through genre melding music, storytelling narrative themes, and relevant messages that resonate universally. Waller is looking forward to applying her theatre technical production abilities, stage management skills, and creative passion to supporting her new EP release "no names here" with live shows, in addition to innovative and artistic productions.
Free Streaming of Lauren Waller's new EP "no names here" is available. Be sure to listen to this link now, https://soundcloud.com/lauren-waller-8/sets/no-names-here.