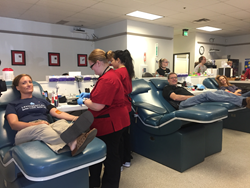 We are honored to support our servicemen and servicewomen through donations of money and blood to the Red Cross. - Heath
Salt Lake City, Utah (PRWEB) April 18, 2017
Lexington Law announced a new national, three-year partnership with the American Red Cross that will provide ongoing support for veterans and those who are valiantly serving America in the US military. Lexington Law Directing Attorney John Heath made the announcement on April 10, 2017 at a Heroes Luncheon sponsored by the Greater Salt Lake Chapter of the American Red Cross at the Little America Hotel.
Lexington Law, a consumer advocacy law firm and leading provider of credit report repair services, will support the Red Cross in several ways, including an annual employee giving campaign (which will be matched up to 10 percent by Lexington Law); quarterly blood drives in Lexington Law office communities; and a unique offer of credit report repair services at no cost for veterans and enlisted men and women.
"We are honored to support our servicemen and servicewomen through donations of money and blood to the Red Cross," said Heath. "The goal for our partnership is to help get service members back on their feet physically, emotionally and financially while they're serving our country. It's the least we can do. And, because those who serve, too often find themselves struggling financially and combating bad credit, we're offering our respected credit report repair services to them, as well."
As part of the kick off for the partnership, Lexington Law's North Salt Lake, Utah location is inviting its over 400 employees and their friends and families, and the public, to be heroes by donating blood in honor of America's veterans and military heroes. A "Be a Hero - Honor a Hero" blood drive will be held Saturday, April 15, from 9 a.m. to 2 p.m. at the American Red Cross Blood Donation Center, 6616 South 900 East, Murray, Utah. Appointments are encouraged, and will save donors time. For more information, visit http://www.redcrossblood.org or http://www.lexingtonlaw.com; or call 1-800 RED CROSS (1-800-733-2767).
The Red Cross provides a continuum of care for service members and their families through a global network of more than 12,000 volunteers in the U.S. chapter network and on military installations around the world. The agency's work focuses on emergency services, building families' resiliency and hospital programs for more than 1.3 million active duty members of the U.S. military, 900,000 members of the U.S. National Guard and Reserve, 21.2 veterans and three million military family members.
Lexington Law provides multiple service levels for its clients. Lexington Law acts as a consumer advocate, "fighting for every client's legal right to a fair and accurate credit profile."
For more information, visit https://www.lexingtonlaw.com.
###
About Lexington Law
Lexington Law Firm is a consumer advocacy law firm that focuses its practice in the area of consumer credit report repair. Lexington has helped hundreds of thousands of Americans work to improve their credit. The firm is comprised of dedicated attorneys and paralegals who deliver professional services to its clients on a daily basis. By leveraging consumer rights, Lexington Law Firm works to ensure that client credit reports are fair, accurate and substantiated. For details about Lexington Law Firm's services or attorneys, please visit http://www.LexingtonLaw.com.
Media Contact
Celeste Edmunds
Director – Corporate Communications & Community Relations
(801) 657-9088