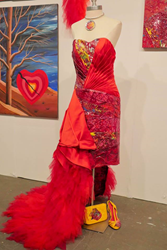 New York, NY (PRWEB) April 21, 2017
WHAT: PALETTEaRT™ WEAR - An Art & Fashion First!
WHEN: April 21-24, 2017 (Opening Night Preview Party 4-8pm)
WHERE: ArtExpo New York - Booth 446 - Pier 94 NYC
Artist LJLevasseur launches a new clothing line refashioning old clothing and accessories into new one of a kind PaletteArt™ Wear Designs.
Each year thousands of art industry insiders flock to Artexpo New York in search of the art and artists that will shape trends in galleries worldwide. It's the largest international gathering of qualified trade buyers under one roof.
This is where Art happens and Lady in Red is painted dress unlike any other we've seen in both the fashion and art worlds. Exciting news and worth a visit to the show for the first preview of what's to come.
Lisa's art is being presented by Art Tour International Magazine this year after a successful exhibition of her Art Wear Jewellery at Florence Fashion Week. Visit Booth#446 to meet the editor and get more inside information.
Visit online to read about this innovative artist and her story, you won't believe everything she has in the works. From accident to an environmental art movement, she's leading new trends in the industry and forming a group supporting artists.
Check us out on social media for sneak previews, highlights, behind the scenes & daily action shots, Facebook live interviews and more to see what's happening at the show!
"You're invited to help Paint the World with Recycled Paint" - LJL
Discover PaletteArt™ http://www.paletteart.org
Visit Gallery PaletteArt™ http://www.ljlgalleries.com
Learn at PaletteArt™ Centre http://www.terracana.com/arts.php