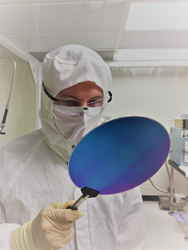 "This facility helps take the U.S. forward in domestic capability and capacity in CVD graphene."
San Diego, California (PRWEB) July 21, 2017
San Diego is the new home of the largest capacity commercial lab in North America producing high quality 'CVD' graphene. Grolltex, for 'graphene-rolling-technologies', is the company now manufacturing the material in its new class 1000 clean room, producing both the raw material graphene as well as specific products made from the material.
The new Grolltex graphene facility is capable of producing the largest high-quality sheets of graphene manufactured in the U.S. for commercial sale. According to CEO, Jeff Draa; "Many in the U.S. graphene community see the country as behind other parts of the world in graphene research and development as well as graphene product creation and implementation. We believe opening this facility helps take the U.S. forward in domestic capability and capacity in CVD graphene."
Of all the different ways to manufacture the futuristic material 'graphene', a process known as chemical vapor deposition (or CVD) is the method that is generally acknowledged as producing the highest quality substrates suitable for advanced electronics manufacturing. Graphene is a next generation material with amazing properties that designers are using to create products of the future such as wearables, bio-sensors, solar panels, flexible displays, artificial skin, water desalination techniques, advanced batteries and much more.
Graphene, discovered in 2004, possesses some incredible properties; it is flexible, transparent, 200 times stronger than steel, a near perfect barrier (nothing penetrates graphene except hot protons) and it is the most conductive substance known at room temperature. Also, it is made from pure carbon which is one of the most abundant materials on earth. Despite all this, graphene is today still not widely used because it is very expensive to produce.
Enter Grolltex, with a patented methodology to manufacture the material in a novel way. The company uses their patented processes and other efficiencies in manufacturing and transfer techniques to enable a 'new cost regime' for creating CVD graphene, resulting in a completely sustainable process and prices well below current market rates. Grolltex believes this could help graphene researchers and product designers everywhere in getting their designs across the finish line and into the hands of users sooner and at lower prices.
Grolltex leverages graphene research and patents developed at nearby University of California, San Diego. In addition to being a graphene materials supplier, the company is involved with the design of specific products made of graphene such as multi-modal sensors, biosensors, perovskite solar cells, display materials and X-ray windows for use in spacecraft.
The company has won a grant for work on a double sided solar cell design and is also in discussions with a large defense contractor for a graphene based sensor array that would be used to detect in-flight structural stress in aeronautical vehicles. These products and designs are enabled by the company's sustainable materials manufacturing schema which includes what the company calls its 'metal assisted exfoliation' technique of graphene transfer. This technique uses industry standard processes and equipment to produce graphene at much lower costs than current practices.
"Our breakthrough transfer process uses the adhesion strength of graphene to other metals versus the copper substrate it is grown on to transfer the graphene completely intact, maintaining its integrity," says inventor and company CTO, Alex Zaretski. He continues, "Additionally, our process is completely sustainable as we reuse the optimized copper substrate over and over again resulting in better throughput and cost savings as well as higher quality graphene as compared to current methods."
With this new facility coming on-line, U.S. CVD graphene capability takes a big step forward relative to other regions of the world that place a focus on large area, high quality graphene for use in electronic devices. According to Draa; "There's no question that our factory provides a big shot in the arm for the U.S. graphene community. Perhaps this will help get some of those amazing use cases to market quicker."