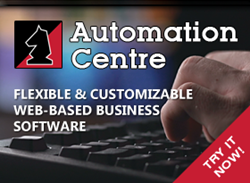 Tracker Suite 5.1 could be the best product ever produced by Automation Centre, says founder, Steven Birchfield.
Tucson, AZ. (PRWEB) September 11, 2017
"Tracker Suite 5.1 could be the best product ever produced by Automation Centre" says founder, Steven Birchfield. Tracker Suite now works on more devices, it is easier to use, faster, more secure, and supports the latest web technologies.
Major innovations, including, new form design capabilities and a new web based business intelligence engine that allows users to easily drag and drop their own report designs and create drill down graphics.
Scalability has been dramatically improved, and this release was tested with tens of millions of records, without a significant reduction in in transaction times.
We enhanced our look and feel for user experience. No one really wants to stare at a software screen all day but if you are a knowledge worker, your experience should be as beautiful and artful as it can be and Tracker Suite 5.1 delivers just that.
In some areas we made the fonts larger, in other areas we added icons. We introduced some subtle color or shading for elegance, and we have also added subtle pop up helpers to make it smarter.
"Security, Accessibility, Elegance, Functionality and Performance" are the words that best describe this release.
Highlights from Tracker Suite 5.1:

New Graphical Business Intelligence Designer, with Bubble Charts, Pie Charts, and Bar Graphs available.
25% faster with optional time to load timers that can be enabled to troubleshoot slow networks.
Support for all major current internet browsers.
New personalization options, drag and drop to create the perfect one touch access to your data.
Improved rich content management, with rich text drag and drop attachment, better document formatting, and improved messaging.
Meeting scheduler to easily schedule teams and manage meeting agendas and minutes.
New form designer and workflow options.
Integration with SalesForce.com.
Integration with Oracle Applications.
Improved work prioritization and resource management.
Improved user experiences, including type ahead and more intuitive validation.
Security Audit Support, logging user security changes and tracking access history.
Support for web farms, load balancing and clusters.
As always, customers from previous releases who are current on maintenance have access to the upgrade, and customers may also request information about the Tracker Suite Cloud options available.
Interested parties may register for immediate access to a free evaluation site at: http://www.trackersuite.net/RFI2/InfoRequest.aspx.
For more information, please contact: info(at)acentre.com.
About Automation Centre
Automation Centre (http://www.Acentre.com) has been successfully providing business solutions since 1994, and is a leading provider of advanced Project Management, Time Reporting, Purchasing, and Help Desk solutions for organizations of all sizes. TrackerSuite.Net is a trademark of Automation Centre. Tracker Suite and TrackerOffice are registered trademarks of Automation Centre.