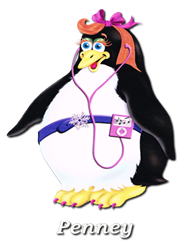 Don't let a bully bother you.
(PRWEB) September 18, 2017
Penney the Penguin and the Kidini Bully Prevention Child Safety Team helps school children dealing with bullying issues and also educates bullies how to show empathy for their friends and classmates. The Kidini Bully Prevention Child Safety Team Assembly will be performing on stage at the Austin D. Baltz Elementary School
Address: 1500 Spruce Ave., Wilmington, Delaware 19808
Date: Tuesday, September 19th 2017
Show times: 9:15 AM and 10:15 AM
Members of the Kidini Team
Introducing:

Bully Prevention Respect & Empathy for others
Who to trust & Do not fall for tricks from tricky people
Keeping a safe distance as big as a Dinosaur
When its time to move, do Low & Go to get away
When to yell, make a scene & stay silent
Educated Running & Stay where you can be seen
Know the Safe Zones & Where to go for help
Never Give Up, Never Give In & Twist to get away
Kidini Bully Prevention Child Safety also has a read along book with animal character stories, songs and a CD available to help children develop self protective skills. Researched by: Delaware Education Research & Development Center, University of Delaware.
Children are introduced to eight (8) friendly animal characters, each one uniquely skilled to recognize, avoid and escape troublesome or dangerous situations. Through individual character lessons and easy to sing-a-long songs children will be guided through the steps each member must take in order to stay safe.
Kidini is a fun, educational and interactive way to empower children with knowledge that could someday prevent him or her from becoming bullied, injured or abused.
http://www.wdel.com/news/video-child-safety-instructors-we-re-not-here-to-scare/article_dd15df38-247e-11e7-bb5d-b320ea14fcb8.html