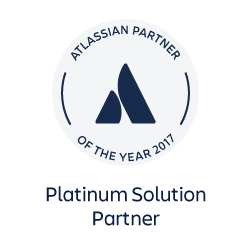 Our partners are fundamental to Atlassian's success, and we're excited to continue our work with cPrime, Inc. in the coming year
Foster City, CA (PRWEB) September 19, 2017
cPrime, the largest Agile, Atlassian, and DevOps consulting company in the United States, today announced that it was awarded Atlassian Partner of the Year 2017, Platinum Solution Partner for their outstanding contribution and achievements during Atlassian's fiscal year 2017. The award was presented to Zubin Irani, CEO of cPrime, during Atlassian's annual user conference, Summit US 2017 in San Jose, CA.
cPrime, Inc. was honored as Solution Partner of the Year during the Atlassian Partner Awards ceremony, an annual event to celebrate Atlassian partners worldwide for their exceptional efforts in developing new business, thought leadership, and products and services that compliment Atlassian.
"Atlassian is pleased to recognize this year's global and regional Partner Award winners for the exemplary work they do to serve our customers," said Martin Musierowicz, Head of Global Channels at Atlassian. "Our partners are fundamental to Atlassian's success, and we're excited to continue our work with cPrime, Inc. in the coming year."
"The excitement we've received from Summit attendees around this week's acquisition of DevJam and the launch of our new suite of Jira apps, Power Portfolio, has been fantastic. But receiving this top recognition from Atlassian is quite an honor," said Brandon Cipes, VP of DevOps at cPrime.
"For the last several years, our team has worked hard to represent Atlassian's full suite of Agile and DevOps solutions to customers in the best way possible. Winning our fourth consecutive award and becoming the Atlassian Partner of the Year 2017, Platinum Solution Partner is a great milestone in our successful partnership with Atlassian. We're very thankful for the honor and look forward to continuing our success with Atlassian for many years to come," said Irani.
About cPrime
cPrime, an ALTEN Group Company, is a full service consultancy that helps companies deliver the extraordinary through consulting, managed services and custom solutions for thousands of software teams, including more than half of the Fortune 100. cPrime is winner of the Atlassian's Partner of the Year 2017 Award, leader in Agile / Scrum transformation services, one of the largest Agile training companies in the United States, Atlassian Platinum Solution Partner and Verified Vendor, Gold SAFe Partner and a well established DevOps solution provider. For more information, please visit http://www.cprime.com. Follow cPrime on Twitter at @cPrimeInc.
cPrime Contact
Tiffany Metzinger
tiffany.metzinger(at)cprime(dot)com
(415) 706-3492